Gas Banquet Broiler -
2 Pages
Model M110XM,
shown with optional
stainless steel sides
upright
broilers
Garland
M100XM
M110XM
US Range
C2100M
High Performance
• 4 burners per broiling chamber apply an even concentration of infra-red energy on the cooking surface.
• Meats are instantly seared, producing the distinct flavor, texture, and eye-appeal of infra-red broiling.
• Burners are manufactured with a stainless steel mesh for protection of the delicate ceramic tiles in the burner and
to increase efficiency by having more "red" surface.This all means longer life and higher rack temperatures.
• Fan-assisted, filtered, primary air supply ensures clean combustion air, efficient burner performance,
and extended burner life.
In the US: Garland Commercial Industries, Inc.
1-800-424-2411
In Canada: Garland Commercial Ranges, Limited
1-888-442-7526
www.garland-group.com
The right combination of power and control opens up a world of
menu possibilities, making this broiler multi-functional and more
versatile than traditional broilers.Your entire staff can do more
with the M110XM than with a traditional infra-red broiler. The
M110XM is a proven performer in any application. It's
the perfect à la carte broiler for hotel or restaurant dining rooms,
yet heavy duty enough to function as a steak and chop broiler in a
steak house or banquet environment.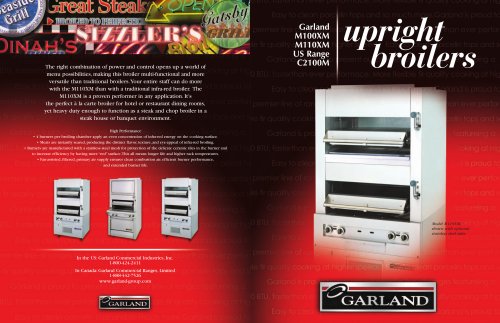 P. 2

2 Enclosed broiling chambersand efficient use of infrared heatresult in a cooler working spacearound the new M110XM.Cooler, more comfortableemployees will...
Text version
All Garland catalogues and technical brochures
Archived catalogues