Catalogs

>

PANDA 60 CELL SERIES 2
Catalog excerpts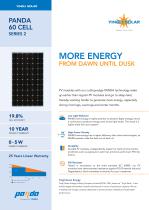 PANDA 60 CELL SERIES 2 File name: Corporate Logo with Tagline / Vertical.ai MORE ENERGY FROM DAWN UNTIL DUSK PV modules with our cutting-edge PANDA technology wake up earlier than regular PV modules and go to sleep later, thereby working harder to generate more energy, especially during mornings, evenings and winter months. Low Light Behavior PANDA technology is highly sensitive to photons (light energy), hence it continues to produce energy even at low light levels. The result is a higher yield from your system. CELL EFFICIENCY High Power Density PANDA technology has a higher efciency than other technologies, so PANDA panels make the best out of each m². PRODUCT WARRANTY 25 Years Linear Warranty Durability Durable PV modules, independently tested for harsh environmental conditions such as exposure to salt mist, ammonia and known PID risk factors. Poly N-Type Mono PID Resistant Tested in accordance to the draft standard IEC 62804, our PV 91.2% modules have demonstrated resistance against PID (Potential Induced Degradation), which translates to security for your investment. 80.7% 97.5% Yingli's Linear Performance Warranty Industry Standard Warranty Yingli GreenYingli's Linear Performance Warranty Energy Industry Standard Warranty Yingli Green Energy Holding Company Limited (NYSE: YGE), known as "Yingli Solar," is the world's largest photovoltaic module manufacturer in terms of production capacity. We are a leading solar energy company dedicated to proven product reliability and sustainable performance.
Open the catalog to page 1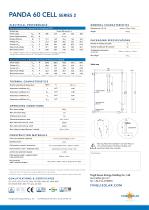 PANDA 60 CELL SERIES 2 ELECTRICAL PERFORMANCE GENERAL CHARACTERISTICS Electrical parameters at Standard Test Conditions (STC) YLxxxC-30b (xxx=Pmax) Pmax Power output Module efciency Number of modules per pallet Open-circuit voltage Number of pallets per 40' container Short-circuit current Power output tolerances STC: 1000W/m2 irradiance, 25°C cell temperature, AM1.5g spectrum according to EN 60904-3. Average relative efciency reduction of 1.9% at 200W/m2 according to EN 60904-1. Electrical parameters at Nominal Operating Cell Temperature (NOCT) Power output Short-circuit current Current at...
Open the catalog to page 2
All Yingli Green Energy Europe GmbH catalogs and technical brochures

Archived catalogs

Compare up to 10 products