Catalogs

>

GÖTZ FAMILY HOME
Catalog excerpts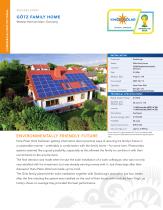 SUCCESS STORY GÖTZ FAMILY HOME Wetzlar-Hermannstein, Germany INSTALLATION Customer Götz family home Module Type Hans Peter Götz Energy Company Energie- und Wassergesellschaft Wetzlar TECHNICAL SPECIFICATIONS Rated System Power Number and Module Type Annual energy yield ENVIRONMENTALLY FRIENDLY FUTURE * ource: German CO2 offset calculation (597.7  of CO2 avoided per kWh) S g based on data from GEMIS (Global Emission Model for Integrated Systems) 2005. Hans Peter Götz had been getting information about practical ways of securing his family's future in a sustainable manner – preferably in combination with the family home – for some time. Photovoltaic systems seemed like a good possibility, especially as this allowed the family to combine it with their commitment to the environment. The final decision was made when he saw the solar installation of a work colleague, who was not only very satisfied with his in­ estment, but was already earning money with it. Just three days after their v discussion Hans Peter Götz had made up his mind. The Götz family planned their solar installation together with GeckoLogic and within just four weeks after the first ­ eeting the system was installed on the roof of their house with mod­ les from Yingli, as m u history shows on average they provided the best performance.
Open the catalog to page 1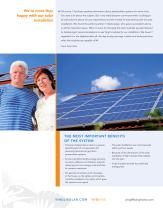 We're more than happy with our solar installation O f course, I had been getting information about photovoltaic systems for some time. You read a lot about the subject. But I only really became convinced when a colleague at work told me about his own experiences and the money he was earning with his solar installation. We found the perfect partner in GeckoLogic, who gave us excellent advice in all the important issues. When it came to choosing the solar modules we also listened to GeckoLogic's recommendations to use Yingli modules for our installation. We haven't regretted it in the...
Open the catalog to page 2
All Yingli Green Energy Europe GmbH catalogs and technical brochures

Archived catalogs

Compare up to 10 products