Catalogs

>

BIRKHOF HORSE STABLES AND RIDING SCHOOL
Catalog excerpts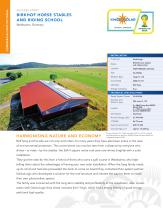 SUCCESS STORY BIRKHOF HORSE STABLES AND RIDING SCHOOL Waldsolms, Germany INSTALLATION Customer Birkhof horse stables and riding school Module Type Rolf Sorg Energy Company TECHNICAL SPECIFICATIONS Rated System Power Number and Module Type Inverter Orientation Annual energy yield HARMONISING NATURE AND ECONOMY 2 x SMA Sunny Boy 5000TL MS HC ESS, 3 x SMA Sunny Mini Central 7000HV E S S * ource: German CO2 offset calculation (597.7 g of CO2 avoided S per kWh) based on data from GEMIS (Global Emission Model for Integrated Systems) 2005. Rolf Sorg and his wife are not only avid riders, for many years they have also been active in the area of environmen­ al protection. This commitment can now be seen from a distance by everyone who t drives – or rides – by the stables: the 264.4 square metre roof area now shines brightly with a solar installation. They got the idea for this from a friend of theirs who owns a golf course in Waldsolms, who kept telling them about the advantages of having your own solar installation. When the Sorg family made up its mind and had also persuaded the bank to come on board they contacted their system partner GeckoLogic who developed a solution for the roof structure and cleared the way for them to install their own photovoltaic system. The family was concerned with the long-term stability and profitability of the installation, after consultation with GeckoLogic they chose modules from Yingli, which had a strong history of good energy yield and high quality.
Open the catalog to page 1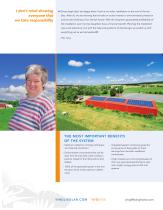 I don't mind showing everyone that we take responsibility very single day I am happy when I look at our solar installation on the roof of the staE ­ bles. After all, we are showing that we take an active interest in environmental protection ­ and are also thinking of our family's future. With the long-term guaranteed profitability of ­ the installation even my two daughters have a financial benefit. Planning the installation was a real adventure, but with the help and guidance of GeckoLogic we ended up with everything just as we had wanted. – Mrs. Sorg THE MOST IMPORTANT BENEFITS OF THE...
Open the catalog to page 2
All Yingli Green Energy Europe GmbH catalogs and technical brochures

Archived catalogs

Compare up to 10 products