Catalogs

>

Fibralux® MR Black High Gloss
Catalog excerpts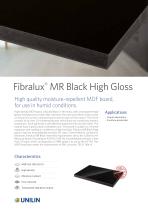 Fibralux MR Black High Gloss ® High quality moisture-repellent MDF board, for use in humid conditions. High-density MDF board, coloured black in the mass, with a transparent high glossy finishing coat on both sides. Moreover, the small wood fibres remain visible on the panel's surface, emphasizing the natural origin of the product. This finish consists of an inert, UV-hardened lacquer which does not contain any harmful substances. Each panel has a self-adhesive protective film on both sides. The boards have a particularly screwable core. The board is subject to minimal expansion and swelling in conditions of high humidity. Fibralux MR Black High gloss is has low formaldehyde emission (E1 class, ChemVerbotsV compliant). Moreover, Fibralux MR Black meets the requirements set by the California Air Resource Board. According to ASTM E 1333-96, formaldehyde emission is less than 0,11 ppm, which corresponds to CARB, phase 2 as set by the ACTM. This MDF board also meets the requirements of EPA, as set by TSCA Title VI. Characteristics MDF.HLS (EN 622-5) High density Moisture resistant Core coloured Transparant high gloss lacquer Applications - Interior decoration - Furniture production
Open the catalog to page 1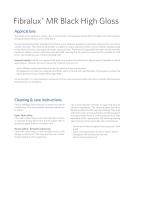 Fibralux® MR Black High Gloss Applications The board can be applied in service class 2 (restrictions in temperature and ambient humidity) and can be used in biological hazard classes 1 and 2 of EN 335-3. During and especially after installation the boards must, wherever possible, be optimally protected from any direct contact with water. They must be stacked flat, on a pallet or using a sufficient number of cross members. Boards should not be stored vertically, unless ground contact can be avoided. The board will expand/shrink under variable humidity conditions, albeit to a lesser extent...
Open the catalog to page 2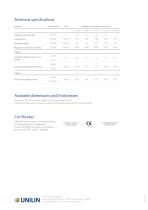 Technical specifications Property Test method Ranges of nominal thickness (mm) > 4 to 6 Internal bond Bending strength Modulus of elasticity in bending Option 1 Swelling in thickness after cyclic testing Internal bond after cyclic testing Option 2 Internal bond after boil test Available dimensions and thicknesses Thickness: 18 & 19 mm. Max. width 122 cm; max length 305 cm. Contact our sales team or send an e-mail to info.panels@unilin.com for further details. UNILIN, division panels Ingelmunstersteenweg 229 – 8780 Oostrozebeke – Belgium info.panels@unilin.com / www.unilinpanels.com...
Open the catalog to page 3
All Unilin Panels catalogs and technical brochures

Compare up to 10 products