Catalogs

>

Thermafiber® Industrial Felt
Catalog excerpts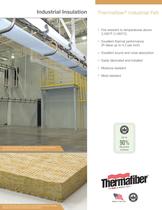 Industrial Insulation Thermafiber® Industrial Felt + Fire resistant to temperatures above 2,000°F (1,093°C) + Excellent thermal performance (R-Value up to 4.2 per inch) + Excellent sound and noise absorption + Easily fabricated and installed + Moisture resistant + Mold resistant Thermaber Industrial Felt is adaptable for a broad scope of applications such as sound booths, dryers, kilns, tanks, and ovens. d ™ The ne-ber, semi-rigid composition makes Industrial Felt easy to handle, fabricate, and install for a broad range of applications.
Open the catalog to page 1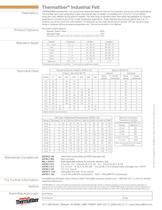 Thermafiber® Industrial Felt THERMAFIBER Industrial Felt is an economical mineral fiber board for thermal, fire protection, and sound control applications. The fine-fiber, semi-rigid composition makes industrial felt easy to handle. It is available from 2.5 pcf to 12.0 pcf density along with many different facing options if needed. The wide range of densities make Thermafiber felt adaptable for industrial applications in a broad scope of low or high temperature applications. These asbestos-free products adsorb less than 1 % moisture, are vermin-proof and mold resistant. On initial start-up...
Open the catalog to page 2
All Thermafiber catalogs and technical brochures

Archived catalogs

Compare up to 10 products