Catalogs

>

SLIDE

>

LOVE
Catalog excerpts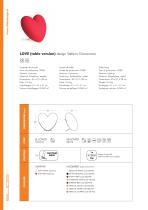 LOVE (table version) design Stefano Giovannoni Lampada da tavolo Anno di produzione: 2008 Versioni: luminosa. Materiali: Polietilene, metallo. Dimensioni: 40 x 27 h 38 cm Peso: 2,5 Kg Imballaggio: 41 x 41 x 41 cm Volume imballaggio: 0,069 m3 Lampe de table Annee de production: 2008 Versions: lumineuse. Materiaux: Polyethylene, metal. Dimensions: 40 x 27 h 38 cm Poids: 2,5 Kg Emballage: 41 x 41 x 41 cm Volume emballage: 0,069 m3 Table lamp Year of production: 2008 Versions: lighting. Material: Polyethylene, metal. Dimensions: 40 x 27 h 38 cm Weight: 2,5 Kg Packaging: 41 x 41 x 41 cm Packaging volume: 0,069 m3 Energy saving bulb recommended (not included). LACQUERED (code glossy/matt) LIGHT WHITE (code LA) • LIGHT RED (code LD) ABSOLUTE WHITE (code QA/MF) • GLAMOUR BLACK (code QH/MI) VANITY GREY (code QG/MK) CHARMING IVORY (code Q2/M3) SUPREME RED (code QD/MN) METALLIC GOLD (code QO/MZ) METALLIC SILVER (code QM/MY) METALLIC COPPER (code Q4/M5)
Open the catalog to page 1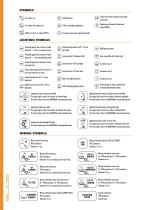 Stackable item. Conformity to the European Community instructions. Recycling and disposal of electronic waste (WEEE). Outdoor version on request (IP55). European Community registered model. LIGHTING SYMBOLS Protected against the intrusion of solid objects Ø > 12 mm, not against water. Standard lamp base for E27 - 27 mm light bulb. Protected against the intrusion of solid objects Ø > 1 mm and splashing water. Lamp base for G4 halogen bulb. Item compatible with Candy Light. Protected against the intrusion of dust and water jets. Lamp base for GU10 spotlight. Fully protected against the...
Open the catalog to page 2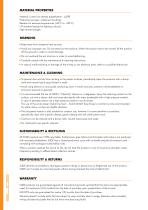 MATERIAL PROPERTIES Material: Linear low-density polyethylene - LLDPE. Production process: rotational moulding. Resistant to extreme temperatures (-60°C to +80°C). UV resistant (except for lighting colours). High tensile strength. WARNING Keep away from excessive heat sources. Avoid any improper use. Do not stand on the products. When the product has to be moved, lift the product off the ground in order to avoid damage. Do not overload the pot structure in order to avoid deforming. Carefully comply with the maintenance & cleaning instructions. In case of malfunctioning or damage of the...
Open the catalog to page 3
All SLIDE catalogs and technical brochures
Archived catalogs

Compare up to 10 products