Catalogs

>

ROCKWOOL

>

EWI INTRODUCTORY GUIDE FOR RESIDENTS
Catalog excerpts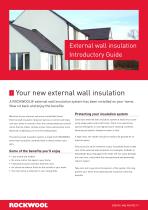 External wall insulation Introductory Guide Your new external wall insulation A ROCKWOOL® external wall insulation system has been installed on your home. Now sit back and enjoy the benefits. Welcome to your warmer and more comfortable home. Protecting your insulation system External wall insulation reduces heat loss in winter and helps Clean your external wall insulation system at least once a year cool your home in summer. Over the coming weeks you should using soapy water and a soft brush. There's no need to buy notice that the indoor climate of your home will become more special detergents or use high pressure cleaning machines balanced, enabling you to turn the heating down. (washing up liquid in lukewarm water is fine). The external wall insulation system is made from ROCKWOOL If kept clean, the render should not need to be painted for at stone wool insulation combined with a robust render outer skin. Ensure you let other members of your household know to take Some of the benefits you'll enjoy care of the external wall insulation. For example, footballs or • Less mould and mildew but over time, could mark the new paintwork and potentially • No more cold or hot spots in your home require repairs. basketballs bouncing against the walls will not cause damage • Improved acoustics and less external noise • An attractive exterior finish on the outside of your home Take care not to puncture the exterior of the system, this may • You may notice a reduction in your energy bills. prevent your home from obtaining the maximum warming benefits.
Open the catalog to page 1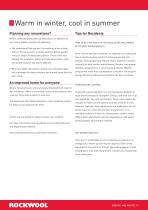 Warm in winter, cool in summer Before undertaking any external renovations or additions to your home, please consider the following: • We recommend that you don't fix anything to the outside walls of the house such as gates, satellite dishes, garden trellis or large Christmas decorations. These items may damage the insulation system and may not provide a safe and sound fixing for any future additions • When you begin renovations, special care should be taken HOW TO GET THE MOST OF THE INSULATION AND ENERGY EFFICIENCY IMPROVEMENTS Once a home has been insulated, it's important to understand...
Open the catalog to page 2
All ROCKWOOL catalogs and technical brochures

Compare up to 10 products