Catalogs

>

SlimLine 38
Catalog excerpts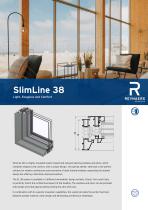 SlimLine 38 Light, Elegance and Comfort SlimLine 38 is a highly insulated system inward and outward opening windows and doors, which combines elegance and comfort, with a unique design. This special slender steel look is the perfect solution for modern architecture and renovation of steel-framed windows, respecting the original design but offering a thermally improved solution. The SL 38 system is available in 3 different minimalistic design variants, Classic, Ferro and Cubic, to perfectly match the architectural aspect of the building. The windows and doors can be provided with double and triple glazing without losing the ultra-slim look. In combination with its superior insulation capabilities, the system provides the perfect harmony between durable material, clean design and demanding architectural challenges.
Open the catalog to page 1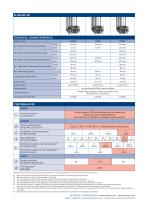 This table shows possible classes and values of performances. The values indicated in red are the ones relevant to this system. (1) The Uf-value measures the heat flow. The lower the Uf-value, the better the thermal insulation of the frame. (2) Window dimension of 1.23m x 1.48m, with glass of 1.1 W/m2K. (3) The sound reduction index (Rw) measures the capacity of the sound reduction performance of the frame. (4) The air tightness test measures the volume of air that would pass through a closed window at a certain air pressure. (5) The water tightness testing involves applying a uniform water...
Open the catalog to page 2
All Reynaers Aluminium catalogs and technical brochures

Archived catalogs

Compare up to 10 products