Catalogs

>

REGUPOL SOUND 15
Catalog excerpts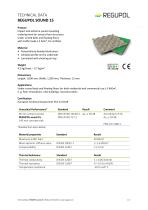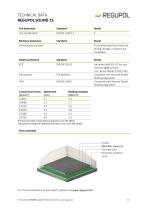 TECHNICAL DATA — REGUPOL Fire behaviour Standard Result Moisture behaviour Standard Result Sensitivity to moisture To be protected from moisture during storage, transport and installation Health protection compliant with EU-LCI list and German AgBB scheme; "A+" as per decret n°2011-321 Compliant with German Model Building Regulation Compliant with German Model Building Regulation Compressive stress Settlement Bedding modulus The tests have been conducted and analysed as per DIN 18134 Test specimen sizing and equipment has been set up as per DIN EN 826 Floor assembly For more assemblies and...
Open the catalog to page 2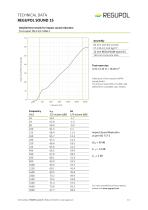 REGUPOL Detailed test results for impact sound reduction Test report PB 4.2/17-068-1 Impact Sound Reduction AL (dB) Assembly 85 mm Cement screed CT-C25-F4, 165 kg/m2 12 mm REGUFOAM sound 15 140 mm Concrete Slab Test room size 4.41 x 4.13 m = 18.20 m2 Publication of test results by MFPA Leipzig GmbH. The full test report PB4.2/17-068-1 dtd. 28/07/2017 is available upon request. Impact Sound Reduction as per ISO 717-2 ALw = 30 dB Ci, a = -13 dB Ci, r = 2 dB For more assemblies and test reports, please visit www.regupol.com Technical Data | REGUPOL sound 15 | Release 01.04.2021 |...
Open the catalog to page 3
All REGUPOL BSW GmbH catalogs and technical brochures

Archived catalogs

Compare up to 10 products