Catalogs

>

Polyvap Radonshield P-AL
Catalog excerpts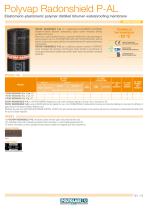 Elastomeric-plastomeric polymer distilled bitumen waterproofing membrane VAPOUR BARRIER POLYVAP RADONSHIELD P-AL is a prefabricated ELASTOMERIC-PLASTOMERIC (Plastomer-Polymer Bitumen) waterproofing vapour control membrane offering excellent performance. Made from a special distilled bitumen compound modified with a high percentage of special polymers such as POLYPROPYLENE (APP) and POLYOLEFIN (APAO), with the addition of special anti-ageing additives that provide blends with superior performance characteristics. POLYVAP RADONSHIELD P-AL has a stabilized polyester nonwoven COMPOSITE carrier laminated with aluminium foil that gives tensile strength in all directions, as well as good dimensional stability and excellent water vapour transmission resistance properties. PRODUCT COMPLIANT WITH EUROPEAN STANDARD WATER VAPOUR TRANSMISSION PROPERTIES DETERMINATION OF RADON TRANSMITTANCE INTENDED USE EN 13707 ROOFS SINGLE-PLY MULTI-PLY EXPOSED ROOT BARRIER RISING DAMP BASE LAYER CAP SHEET BASE LAYER CAP SHEET POLYVAP RADONSHIELD P-AL 3 mm S F POLYVAP RADONSHIELD P-AL 4 mm S F POLYVAP RADONSHIELD P-AL 3 kg S F POLYAP RADONSHIELD P-AL s a VAPOUR BARRIER designed for use under insulating material to ensure it has a long service life. POLYAP RADONSHIELD P-AL is also a RADON GAS barrier suitable for use in the FOUNDATIONS of residential/commercial and industrial buildings to help stop the diffusion of gases found in the ground (Radon, Methane, etc.). Whatever the case, the right VAPOUR DIFFUSION CONTROL LAYER for the job must be determined based on the existing roof build-up, checking for condensation formation (with the aid of a Glaser diagram). FINISHES The POLYVAP RADONSHIELD P-AL membrane comes with the upper side protected with sand. The underside comes with a standard protective finish consisting in a heat-fusible polyethylene film. For further information on other available finishes, please contact the Polyglass SpA Sales Department. Superior finishes Lower finishes Heat-fusible polyethylene film
Open the catalog to page 1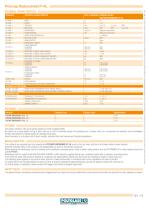 TECHNICAL CHARACTERISTICS STANDARD TECHNICAL CHARACTERISTICS UNIT OF MEASURE NOMINAL VALUES POLYVAP RADONSHIELD P-AL WIDTH LENGTH THICKNESS AREA MASS STRAIGHTNESS WATERTIGHTNESS WATER VAPOUR PROPERTIES μ REACTION TO FIRE VISIBLE DEFECTS DIMENSIONAL STABILITY SHEAR RESISTANCE Longitudinal Transversal RESISTANCE TO IMPACT (RIGID SUPPORT) RESISTANCE TO IMPACT (SOFT SUPPORT) RESISTANCE TO STATIC LOADING (SOFT SUPPORT) RESISTANCE TO STATIC LOADING (RIGID SUPPORT) RESISTANCE TO TEARING Longitudinal Transversal TENSILE STRENGTH Longitudinal Transversal ELONGATION AT BREAK Longitudinal Transversal...
Open the catalog to page 2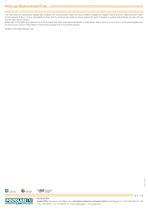 Polyvap Radonshield P-AL LEGAL RULES The values given are approximate average data relating to the current product range and may be edited or updated by Polyglass SpA at any time without any prior notice. As the Customer or User, it is your responsibility to check that the technical data sheet you have is valid for the batch of product in question and, whatever the case, that you have the latest version issued. Always refer to the latest up-to-date version of the Technical Data Sheet and relevant Declaration of Performance, both of which you can find on our site www.polyglass.com. As the...
Open the catalog to page 3
All Polyglass Spa catalogs and technical brochures

Compare up to 10 products