Catalogs

>

GreenSpace Accent
Catalog excerpts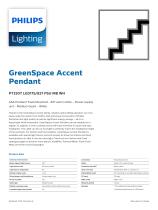 Lighting GreenSpace Accent Pendant PT320T LED17S/827 PSU MB WH GSA Pendant Track Mounted - 827 warm white - Power supply unit - Medium beam - White Thanks to the GreenSpace Accent family, retailers and building operators can now easily make the switch from CDM to LED and enjoy the benefits of Philips PerfectAccent light quality as well as significant energy savings - all for a reasonable initial investment. GreenSpace Accent Pendant can be installed on a regular 3C adaptor or onto a ceiling mount with track interface for quick and easy installation. The cable can be cut to length to perfectly match the installation height of the luminaire. For fashion and food retailers, GreenSpace Accent Pendant is available with special light flavors and LED recipes to show the clothes and fresh food produce on offer in the very best light. Check out our Fashion and Food catalogue pages to discover more about CrispWhite, PremiumWhite, Fresh Food Meat and Fresh Food Champagne. Product data General Information Beam angle of light source 120 ° Light source color 827 warm white Light source replaceable No Number of gear units 1 unit Driver/power unit/transformer Power supply unit Optic type Medium beam Optical cover/lens type Polymethyl methacrylate bowl/cover Luminaire light beam spread 24° Connection Cable Protection class IEC Glow-wire test Flammability mark CE mark ENEC mark Warranty period Remarks Flying leads/wires Cable 3.0 m without plug Safety class I Temperature 650 °C, duration 5 s For mounting on normally flammable surfaces CE mark ENEC mark 5 years *-Per Lighting Europe guidance paper "Evaluating performance of LED based data subject to change
Open the catalog to page 1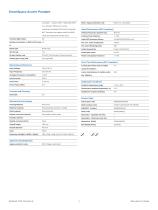 Mech. impact protection code IK02 [ 0.2 J standard] Initial Performance (IEC Compliant) Initial luminous flux (system flux) 1650 lm Luminous flux tolerance +/-10% Initial LED luminaire efficacy 114.58333333333333 lm/W Init. Corr. Color Temperature 2700 K Init. Color Rendering Index £80 Initial input power 14.4 W Power consumption tolerance +/-10% luminaires - January 2018": statistically there is no relevant difference in lumen maintenance between B50 and for example B10. Therefore the median useful life (B50) value also represents the B10 value. Constant light output No Number of products...
Open the catalog to page 2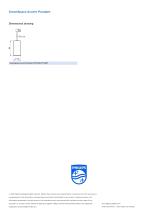 GreenSpace Accent Pendant Dimensional drawing GreenSpace Accent Pendant PT320C/PT320T © 2019 Signify Holding All rights reserved. Signify does not give any representation or warranty as to the accuracy or completeness of the information included herein and shall not be liable for any action in reliance thereon. The information presented in this document is not intended as any commercial offer and does not form part of any quotation or contract, unless otherwise agreed by Signify. Philips and the Philips Shield Emblem are registered trademarks of Koninklijke Philips N.V. 2019, December 6 -...
Open the catalog to page 3
All Philips LIGHTING France INDAL catalogs and technical brochures

Archived catalogs
Compare up to 10 products