Catalogs

>

PETRAL

>

BRICKTILE 2.5 OUTDOOR
Catalog excerpts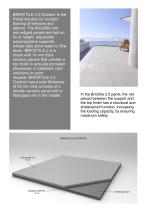 BRICKTILE 2.5 Outdoor is the Petral solution for outdoor flooring of terraces and dehors. The 600x600 mm non-edged panels are laid on fix or height- adjustable polypropylene supports, whose tabs allow water to flow down. BRICKTILE 2.5 is made with 14 mm thick ceramic panels that provide a top finish in anti-slip porcelain stoneware, in standard color solutions or upon request. BRICKTILE 2.5 Outdoor has a total thickness of 25 mm and consists of a double ceramic panel with a fiberglass net in the middle. In the Bricktile 2.5 panel, the net placed between the support and the top finish has a...
Open the catalog to page 2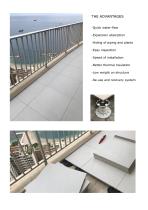 THE ADVANTAGES -Quick water-flaw -Expansion absorption -Hiding of piping and plants -Easy inspection -Speed of installation -Better thermal insulation -Low weight on structure -Re-use and recovery system
Open the catalog to page 3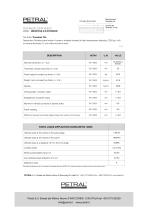 TECHNICAL DATA SHEET PANEL : BRICKTILE 2.5 OUTDOOR Top finish: Porcelain Tile Description: Modular panel made of ceramic material sintered at high temperatures (density≥ 2200 kg / m3) of nominal thickness 15 mm without bottom finish. N.16 Thickness included top finish (+/-0,3) Panel weight included top finish (+/-5%) Weight /sqm included top finish (+/- 5% ) Orthogonality of panel's sides Straightness of panel's sides Maximum vertical curvature of panel's sides Panel warping Difference between perimetral edges height and surface of the panel STATIC LOADS (APPLICATION GUIDELINE EN 12825) Ultimate...
Open the catalog to page 4
All PETRAL catalogs and technical brochures
Compare up to 10 products