Catalogs

>

PEAKnx

>

USB-CONNECTOR
Catalog excerpts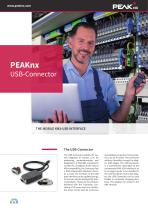 THE MOBILE KNX-USB INTERFACE The USB-Connector The USB-Connector enables the system integrator to connect a PC for addressing, parameterization and diagnostics of KNX/EIB components via the ETS. In addition to the normal KNX compatibility, the Connector has a KNX-independent Windows driver. As a result, the firmware of the USB data interface can be updated using a PC and can also be deployed for future standards. Thanks to the software delivered with the Connector, consisting of IP router and bus monitor, the device can be used for numerous visualization programs, for bus analysis or as an IP router. The Connector achieves flexibility through its adapter (KNX Wago). The USB-Connector is a cost-effective alternative to the conventional KNX-USB-interfaces, as it no longer needs to be installed in the control cabinet. Due to the adapter, the USB-Connector can be used flexibly in constantly changing locations. The adapter can remain in the KNX network.
Open the catalog to page 1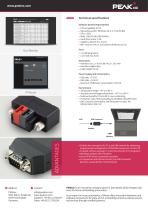 Technical specifications Software System Requirements ■ ETS compatible: ETS 5 ■ Operating system: Windows 10, 8.1, 7 (32/64 Bit) ■ CPU: 1 GHz ■ RAM: 1 GB (32 Bit)/2GB (64 Bit) ■ Hard drive space: 1 GB ■ Graphics: DirectX 9 or newer ■ NET version: ID 4.5.1 (included in Windows 10, 8.1) Ports ■ 1 x USB plug type A ■ 1 x D-Sub (m), 9-pin Dimensions ■ Interface size, L x W x H: 86 x 42.5 x 20.5 mm ■ Interface weight: 88 g ■ Cable length: 65 cm Power Supply and Consumption ■ USB side: + 5 V DC ■ KNX side: + 24 V DC ■ Maximum USB power consumption: 100 mA Environment ■ Temperature range: - 40 °C...
Open the catalog to page 2
All PEAKnx catalogs and technical brochures
Compare up to 10 products