Catalogs

>

PEAKnx

>

PERFORMANCE SERVER
Catalog excerpts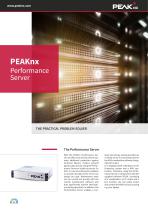 Performance Server THE PRACTICAL PROBLEM SOLVER The Performance Server With the PEAKnx Performance Server, we offer users of smart home systems additional protection against technical failures. Protect yourself against data loss by using the Performance Server as a back-up server. So that, in case of unforeseen problems on a panel, the data of the server can always be used. Maintenance work can be carried out quickly with the remote maintenance software and thus significantly shorten interruptions during operation. In addition, the Performance Server enables a con- stant and energy-saving operation as a media server or processing unit for the KNX visualization software (integrated IP router). It is equipped with a Windows 10 IoT Enterprise system and a KNX connection. Therefore, using the Performance Server in conjunction with the supplied software YOUVI, consisting of a visualization, an IP router and a bus monitor, you can easily access and control the KNX bus by just using e.g. your laptop.
Open the catalog to page 1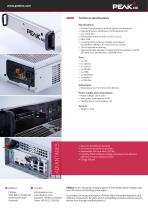 Technical specifications Specifications ■ X2 Dual-Core processor, optional: Quad-Core processor ■ Operating System: Windows 10 IoT Enterprise LTSC ■ Low-noise fans ■ Removable hard drive: SSD 120 GB, 2.5 inch ■ RAM: 4 GB ■ Including YOUVI software package consisting of visualization software, IP router and bus monitor ■ 19-Inch aluminum housing ■ Optional Backup package, containing backup software, 250 GB SSD hard drive and Recovery USB flash drive Ports ■ 1 x KNX ■ 2 x USB 3.0 ■ 2 x USB 2.0 ■ 2 x GB LAN ■ 2 x HDMI ■ 1 x Audio Out ■ 1 x Audio In ■ 1 x VGA Out Dimensions ■ Dimensions, W x H...
Open the catalog to page 2
All PEAKnx catalogs and technical brochures
Compare up to 10 products