Catalogs

>

PEAKnx

>

CONTROLMINI
Catalog excerpts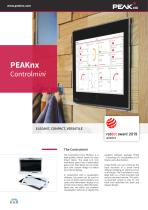 www.peaknx.com Fussbocenhezuigl Controlmini Q Rotlader inks ELEGANT, COMPACT, VERSATILE The Controlmini The Controlmini from PEAKnx, is a high-quality control center for your Smart Home. The sleek 11.6 inch multitouch panel has a replaceable glass cover that allows you to create your own custom design to match your interior design. In conjunction with a visualization software, the panel can be used as a room or home control station, as a status and information display or as an intercom on doors. After the installation you can either use common visualization software or deploy the supplied software package YOUVI - consisting of a visualization, an IP Router and a Bus Monitor. Using YOUVI, you can control all the basic functions of a smart home without installing an external server or IP-Router. The Controlmini is available both as a flush-mounted and surface-mounted version. The surface-mounted version is only 25 mm thick and underlines the sleek and elegant design.
Open the catalog to page 1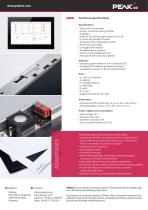 NX Technical specifications Specifications ■ Intel Quad-Core processor ■ Fanless, convection cooling (airflow) ■ 4 GB RAM ■ eMMC 64 GB memory, expandable by micro SD ■ 11.6-inch LED-Backlit LCD panel ■ Resolution 1920 x 1080 pixels (Full HD) ■ PCAP touch technology ■ 5-megapixel HD webcam ■ Broadband stereo speakers ■ WLAN, 2,4 GHz and Bluetooth 4.0 ■ Microphone with room characteristics Software ■ Operating system: Windows 10 IoT Enterprise LTSC ■ Including YOUVI software package consisting of visualization software, IP Router and Bus Monitor Ports ■ 2 x USB 2.0 (front port) ■ 1 x USB 3.0...
Open the catalog to page 2
All PEAKnx catalogs and technical brochures
Compare up to 10 products