Catalogs

>

Salt-sand-spreader_CityRanger2250
Catalog excerpts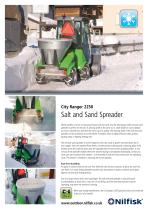 Salt and Sand Spreader Winter weather and ice on the ground mean salt and sand, and the City Ranger 2250 salt and sand spreader is perfect for the job. Its clearing width is the same as i.e. dozer blade or snow sweeper, so snow is cleared first, and then the salt or sand is spread. The clearing width of the salt and sand spreader can be increased, up to five metres if needed, which is highly effective when gritting parking areas or fighting freezing rain. The salt and sand spreader is funnel-shaped so that salt, sand or gravel is pressed down by its own weight. Even wet material flows freely. A stirrer prevents clotting and a vibrating plate in the bottom drives the material down onto the spreader plate for the correct spreading width. A new version of the spreader enables the stirrer and the dosing to be adjusted individually, so that you never use more material than needed – to the benefit of both the environment and the operating costs. The amount of material is manually set by the operator. Rust-free durability All parts in contact with salt are rust-free. With the new version, however, all parts are rust-free, and there is an extra sealing between machine and attachment to protect machine and engine against salt and dust during gritting. Due to a large volume and a low load height, the salt and sand spreader is easy and quite accommodating to work with. It runs far on one filling, and the start/stop function ensures spreading only when the machine is moving. When you change attachments, the City Ranger 2250 hydraulic hoses are connected at the turn of a handle!
Open the catalog to page 1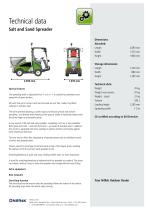 Technical dataSalt and Sand Spreader 2,690 mm Special features The spreading width is adjustable from 1 to 5 m - 1 m suitable for pavements and protection of green borders. All parts that get in contact with salt and sand are rust free, made of synthetic material or stainless steel. The stirrer prevents blocking, crushes lumps and ensures precise and uniform spreading - and thereby even thawing of the ground. Made of hardened Hardox steel the stirrer fingers are extremely robust. CE certified according to EU Directive A new version of the salt and sand spreader, completely rust free, is now...
Open the catalog to page 2
All NILFISK ADVANCE catalogs and technical brochures

Compare up to 10 products