Catalogs

>

Bar Brochure
Catalog excerpts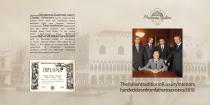 ModeneseGastoneLuxury Classic Interiors has its origins in the distant 1818 when the Modenese family launched their own wooden furniture manufacture. have passed and the family business was carefully handed down from father to son across seven generations. Today Modenese Gastoneisa with an abundant wealth of experience in luxury interior design that offers to its clients a full range of services: from broad collections of customized handmade furniture pieces to individual designing and turn-key project realization.
Open the catalog to page 2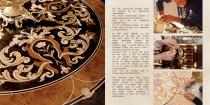 The raw hand-carved furniture items are prepared by our experienced cabinetmakers. The whole wood-carving process is entirely handmade and is carried out with the use of traditional carpenter's tools. It's an enchanting process of solid wood pieces turning into elaborated furniture elements. To add some splendor to the furniture we use gold, silver, bronze and other types of leaf. As the whole production process the gilding is done manually: the craftsmen apply a special glue on the decorated surface and cover it with a fine piece of gold (silver etc.) leaf. Afterwards with a special stiff...
Open the catalog to page 8
All Modenese Interiors Luxury Furniture catalogs and technical brochures
Compare up to 10 products