Catalogs

>

smoking shelters
Catalog excerpts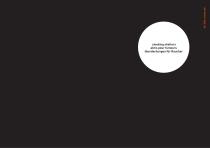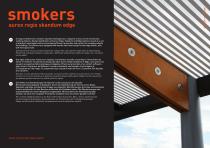 aureo regio skandum edge A range of shelters for smokers has been developed as a response to the current trend to ban smoking indoors. Design modification of Aureo, Regio, Skandum and Edge shelters results in a set of practical and elegant shelters providing sufficiennt protection and comfort for smoking outside the buildings. The shelters are equipped with wooden shelf and except for the edge shelter, also with front glass wall. Galvanized steel structure treated with powder coating. Rear, side and front walls made of tempered glass. Roof of twin-wall polycarbonate or safety glass. Shelf...
Open the catalog to page 2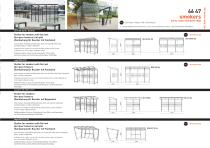 USB charger / Chargeur USB / USB-Ladegerät aureo regio skandum edge a – without lighted advertisement box / sans caisson publicitaire éclairé / ohne beleuchteten Schaukasten aureo AE-S210   /   S310-SS Shelter for smokers with flat roof Abri pour fumeurs à toit plat Überdachung für Raucher mit Flachdach steel structure, roof made of safety glass, front, rear and side walls made of tempered glass, wooden components structure acier, toiture en verre de sécurité, parois arrière, avant et latérales en verre trempé, éléments en bois Stahlkonstruktion, Dach aus Sicherheitsglas, Front, Rück-, und...
Open the catalog to page 3
All Mmcité street furniture catalogs and technical brochures
Compare up to 10 products