Catalogs

>

METRA

>

NC-S 150 STH
Catalog excerpts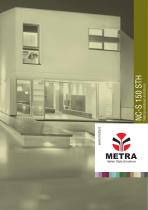 Air pressure applied km/h Class achieved Air permeability EN 1026 - EN 12207 The METRA window or door was subjected to a wind pressure equal to a speed of 111,54 km/h (600Pa) and passed the test with positive results. Class achieved Air pressure applied Capacity of the window or door to block seepage of water when it is struck by a water flow and there is a pressure difference between the internal and external side. Characteristic of a closed vent to let air pass through when the internal and external pressures are mutually different; the smaller the volume dispersed, the greater the window or door quality. Curtain walls Casement windows and doors Aluminium-wood windows and doors Sliding windows and doors Internal doors Resistance to wind load EN 12211 - EN 12210 The METRA window or door was subjected to a wind pressure equal to a speed of 157,7 km/h (1200Pa) and passed the test with positive results. Soundproofing power EN ISO 140-3, EN ISO 717-1 METRA windows and doors are able to cut out airborne noise from the outside up to 42dB. Capacity of a window and door to attenuate external noise. Verandas Shading systems Photovoltaic applications Accessories and design complements Thermal transmittance METRA's windows and doors comply with the energy saving standards The heat transmission rate U is the heat flow which goes through the window or door according to m² of surface and for each degree of difference in temperature between exterior and interior. The unit of thermic transmission measurement is W/m²K. Air pressure applied With deflection Class achievedzza Capacity of a window or door subjected to high pressure and/or suction, such as those caused by wind, to remain within admissible deformation limits and to conserve its initial properties so as to ensure protection and safety to the users. * Door 2 sashes 2500 x 2500 mm; vetro: Ug=0.6 W/m2K, psi=0.05 W/m K Operating forces EN 13115 METRA windows and doors enable easy opening with minimum effort Class achieved Mechanical resistance EN 12046 - EN 13115 METRA windows and doors resist applied loads without tpermanent deformation or breakage. Class 0 Class achieved Resistance to repeated opening and closing cycles EN1191 - EN 12400 METRA windows and doors effectively resist repeated opening and closing cycles over time (110,000 openings). Windows and doors Doors only Class achieved 0 1 3 4 5 6 7 8 2 No.cycles 5000 10000 20000 50000 100000 200000 500000 1000000 Capacity of a window and door to enable easy opening with minmum effort. Capacity of a window and door to resist applied loads without breaking, with no permanent deformation or twisting that could impair their correct functioning. Capacity of a window and door to resist repeated opening and closing cycles over time. Class achieved Drop height METRA uses ecological paper for its documentation and low environmental impact printing products. SOLO METRA TI PROPONE UN PRODOTTO COMPLETO DI TUTTO OUR SERVICE ALWAYS CLOSER TO CUSTOMERS Metra's accessories guarantee enhanced performances to one's own window and door frames. METRA's toll free number is always available in order to support your ideas, suggesting new solutions and finally directing you to Metra's point of sale. Metra's pre and after sale service will always help you in each phase: from your frame choice to installation, from cleaning advice to traceability of your frame history. DESIGN AND STYLE METRA's window and door frames include a wide range of aesthetic styles, adding thus value to the traditional and contemporary dwelling spaces, preserving in this manner the original features of buildings restored conservatively. The latest creations provide more luminosity to living spaces thanks to the tapered shapes and the reduced thickness of profiles. A huge variety of finishing, resistant and chromatically surprising! From metallic colours to sand effects, opaque, glossy………up to natural wood surface cladding the heart of aluminium. THE CHOICE OF ALUMINIUM Aluminium is becoming ever more present in our lives: from simple cans to high-speed trains. Aesthetically agreeable, malleable, extremely resistant and 100% recyclable. Aluminium is the ideal material for the creation of windows and doors. GREEN METRA is engaged in a low environmental impact production and all its products are Eco-friendly to the maximum extent. DESIGN COMPLEMENTS Impact resistance (TEST METHOD WITH A HARD BODY) EN 13049 METRA windows and doors effectively resist impact. METRA S.p.A. Via Stacca,1 - 25050 Rodengo Saiano (BS) Italy Tel. +39 030 6819.1 - Fax +39 030 6810363 servizioclienti@metra.it - www.metra.it Sliding windows and doors The METRA window or door has not had any seepage of water even with a wind pressure equal to a speed of 111,54 km/h (600Pa). Capacity of a window and door to withstand involuntary or accidental impact. METRA Documentation Brochure NC-S 150 STH - English Edition: 12/2013 METRA's POINT OF SALE METRA's design complements are offered in a wide range of coordinated shapes distinguished by the original style capable of satisfying and harmonising the aesthetic requirements of any kind of dwelling environment. METRA's point of sale is the place where people enter with a dre
Open the catalog to page 1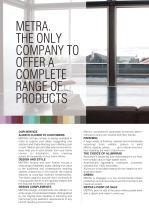 NC-S 150 STH Certified performances The METRA window or door has not had any seepage of water even with a wind pressure equal to a speed of 111,54 km/h (600Pa). Air pressure applied km/h Class achieved Air permeability EN 1026 - EN 12207 The METRA window or door was subjected to a wind pressure equal to a speed of 111,54 km/h (600Pa) and passed the test with positive results. Class achieved Air pressure applied Capacity of the window or door to block seepage of water when it is struck by a water flow and there is a pressure difference between the internal and external side. Characteristic...
Open the catalog to page 2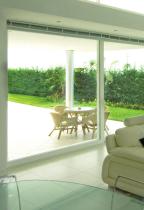 Sliding windows and doors Advantage Sezione Linea Rodos Technical features • Easy maintenance • Maximum thermal and acoustic insulation • No architectural barriers • Space optimization • Inalterable and long-lasting • Suitable for anti-theft systems • Suitable for household automation and domotics • Extremely smooth sliding action Base dimensions: 140 - 150 mm Air-water-wind tightness: EPDM or brush gasket Glass thickness: max 43 mm Maximum sash load: 300/400 kg lift and slide METRA Quality • Sliding windows and French windows with 2 or 3 tracks • Big dimensions lift-and-slide French...
Open the catalog to page 3
All METRA catalogs and technical brochures

Archived catalogs

Compare up to 10 products