Catalogs

>

Productguide
Catalog excerpts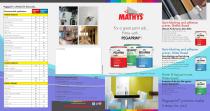 Pegaprim®, a Primer for Every Job... Recommended applications Pegaprim® Pegaprim® Isofix Xpress INTERIOR SURFACES Drywall Paneling/bare wood/window frame Triplex / Multiplex Glass / PVC Ceiling panels with water stains Masonry/cement(completely hardened) Mortar repair For a great paint job... Prime with... Pegaprim®! Treated concrete Ultimate Performance Stain Killer • • • • • • For interior and spot exterior use Ultimate stain killer Seals knots & sap streaks Seals pet, smoke and musty odours Sticks to all surfaces without sanding Lightning fast dry - recoat in 45 minutes Galvanized metal Chrome/aluminum/ stainless steel Rubber (hard) Alkyd paints Stain-blocking and adhesion primer, Water Based Your distributor : Stain-blocking and fast-drying universal adhesion primer Polyester EXTERIOR SURFACES X Multiplex/ chipboard Galvanized metal Stain-blocking and adhesion primer, Shellac Based STAINS & ODOURS Fire & nicotine stains Water stains Lipstick/ crayon/ Pen/ Marker Copper stains Rust stains Rust-Oleum UK Ltd. Rotterdam House - 116 Quayside - Newcastle - NE1 3DY - United Kingdom T: +44 (0)2476 717 329 Pegaprim® Xpress - Pegaprim® Isofix - Pegaprim® Sanitop Interior and exterior Mould & mildew resistant film Sticks to all surfaces without sanding Rust inhibitive - great for new metal Fast 1 hour recoat time Primer & topcoat in one, Water based Protection of the dry film against fungal degradation • Interior and exterior • High quality satin matt finishing • Good adhesion • Ideal for damp areas • Fast drying Pegaprim® primers make it easy for you!
Open the catalog to page 1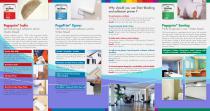 Why should you use Stain-blocking and adhesion primer ? To seal porous surfaces • Builder's flat paint • Bare drywall • Stucco • Concrete/masonry • Bare wood • Weathered aluminium • Filled areas Benefit: Uniform colour and sheen with one topcoat. Pegaprim® Isofix Stain-blocking & adhesion primer Shellac Based Ultimate adhesion primer. 100% white pigmented shellac, Pegaprim® Isofix blocks the worst stains, seals in the toughest odours and bonds tightly to glossy and dense surfaces. Pegaprim® Isofix seals in knots and sap streaks, grease stains, fire odour, and seals new wood. It's great as a...
Open the catalog to page 2
All MATHYS PAINTS catalogs and technical brochures
Compare up to 10 products