Catalogs

>

DOUSSIE
Catalog excerpts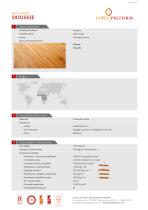 DATA SHEET LOPEZIPIGUEIRAS Name and family International Name Scientific Name Family Main Commercial Names Doussie Afzelia spp Caesalpiniaceae. Doussie Vitacola Sapwood Heartwood • Colour • Grain direction • Grain Yellowish white. Reddish brown. Straight, sometimes slightly interlaced. Medium. Technological characteristics Wet weight Density at 12% humidity Dimensional stability • Volumetric contraction coefficient • Contraction ratio • Hardness (Chalais - Meudon) • Resistance to static bending • Elasticity modulus • Resistance to parallel compression • Resistance to parallel traction • Fire reaction class • Thermal conductivity • Formaldehyde emission 1.150 Kg/m3 790 Kg/m3 (very heavy) 0,34% (Very stable wood) 1,4% (No tendency to warp) 7,4 (Very hard wood) 1.730 kg / cm2 137.000 kg/cm2 740 kg/cm2 1200 kg/cm3 Cfl-sl 0,18 W/(mK) El LOPEZ PIGUEIRAS SOLID WOOD FLOORING Lg. de Patarroa s/n, CP 27861, Covas-Viveiro (LUGO), Tel. +34 982 561 061 lopezpigueiras@lopezpigueiras.com www.lopezpigueiras.com
Open the catalog to page 1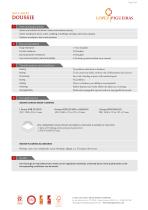 DATA SHEET LOPEZIPIGUEIRAS Uses and applications Indoor and outdoor furniture. Indoor and outdoor joinery. Indoor woodwork, doors, stairs, cladding, mouldings, skirtings, wainscots, parquet. Outdoor woodwork, doors and windows. Natural durability Fungi resistance Termite resitance Dry wood borers resistance Use class ensured by natural durability 1 (Very Durable) D (Durable) D (Durable) 4 (Outside, ground and fresh water contact) Sawing Drying Processing Gluing Nailing Finishing Impregnability No problems aside from its hardness. To be carried out slowly, with low risk of deformations and...
Open the catalog to page 2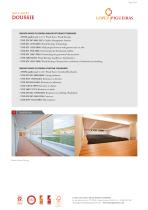 DATA SHEET LOPEZIPIGUEIRAS INDOOR WOOD FLOORING MANUFACTURING STANDARDS - AITIM quality seal: 4-3-13. Wood floors. Wood flooring. - UNE-EN ISO 9001:2015: Quality Management Systems. - UNE-EN 13756:2003: Wood flooring. Terminology. - UNE-EN 13226:2009: Solid parquet elements with grooves and / or tabs. - UNE-EN 1910:2000: Determining the dimensional stability. - UNE-EN 13647:2003: Determining the geometrical characteristics. - UNE 56810:2010: Wood flooring. Installation. Specifications. - UNE-EN 14342:2006: Wood flooring. Characteristics, evaluation of conformity and marking. INDOOR WOOD...
Open the catalog to page 3
All LOPEZ PIGUEIRAS catalogs and technical brochures

Compare up to 10 products