Catalogs

>

CHERRY
Catalog excerpts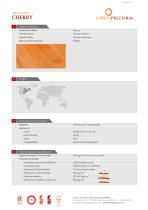 DATA SHEET LOPEZIPIGUEIRAS Name and family International Name Scientific Name Spanish Name Main Commercial Names Cherry Prunus serotina Cerezo americano. Cherry Description of the wood Sapwood Heartwood • Colour • Grain direction • Grain • Impregnability Whitish pink. Impregnable. Reddish brown to red. Straig. Fine. Moderately impregnable. Technological characteristics Apparent density at 12% humidity Dimensional stability • Volumetric contraction coefficient • Contraction ratio • Hardness (Chalais-Meudon) • Resistance to static bending • Elasticity modulus • Resistance to parallel compression 0,38% (stable wood) 1,92% (tendency to deform) 3,2 (semi-hard wood) ^ LOPEZ PIGUEIRAS SOLID WOOD FLOORING Lg. de Patarroa s/n, CP 27861, Covas-Viveiro (LUGO), Tel. +34 982 561 061 lopezpigueiras@lopezpigueiras.com www.lopezpigueiras.com
Open the catalog to page 1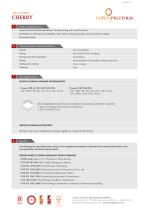 DATA SHEET Uses and aplications Indoor furniture and fine woodwork. Carving, lathing and curved furniture. Woodwork on openings and claddings, indoor: doors, flooring, parquet, wainscots and mouldings. Decorative plates. Transformation and installation Sawing Drying Easy and fast. Risk of warping. Planing and other operations Some problems with acid glues at high temperature. Our applications WOOD FLOORING IN INDOOR ENVIRONMENTS • Format FOR GLUING OR NAILING 400 / 1600 x 90, 100, 110, 120 or 140 x 19 mm. THE VARNISHED SOLID WOOD FLOORING CONTAINS 8 LAYERS OF COATING: - 5 layers of UV-drying...
Open the catalog to page 2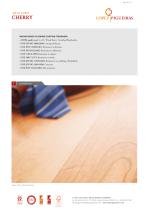 DATA SHEET CHERRY INDOOR WOOD FLOORING COATING STANDARDS - AITIM quality seal: 4-4-01. Wood floors. Varnished floorboards. - UNE-EN ISO 2808:2000: Coating thickness. - UNE ENV 13696:2001: Resistance to abrasion. - UNE ISO 4624:2002: Resistance to adherence. - UNE 1 109-6:1990: Resistance to impact. - UNE 56817:1974: Resistance to shock. - UNE-EN ISO 11998:2002: Resistance to scrubbing. Washability. - UNE-EN ISO 2409:1996: Cross-cut. - UNE-ENV 12633:2003: Slip resistance. Indoor Cherry Wood Flooring LOPEZ PIGUEIRAS SOLID WOOD FLOORING Lg. de Patarroa s/n, CP 27861, Covas-Viveiro (LUGO), Tel....
Open the catalog to page 3
All LOPEZ PIGUEIRAS catalogs and technical brochures

Compare up to 10 products