Catalogs

>

Lafarge

>

MOLD DEFENSE
Catalog excerpts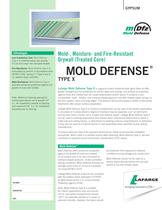 GYPSUM Advantages Low Installation Cost: Mold Defense Type X is installed easily and quickly. It cuts and snaps like standard drywall. Fire Resistance: Mold Defense Type X is formulated to perform in accordance with ASTM C1396, Section 7, Type X and is UL labeled (Type LGFC2A). Mold Resistance: Mold Defense Type X provides enhanced protection against the growth of mold and mildew. Note: Maximum framing spacing for ceiling applications not to exceed 16" o.c. for installation parallel to framing and maximum 24" o.c. for installation perpendicular to framing. Mold-, Moisture- and Fire-Resistant Drywall (Treated Core) MOLD DEFENSE ® TYPE X Lafarge Mold Defense Type X is a gypsum board enhanced with glass fibers to offer greater strength and fire protection for interior walls and ceilings, and enhanced protection against mold and mildew that can cause deterioration and/or stains. It contains a noncombustible, mold-, mildew- and moisture-treated gypsum core with treated paper facings on the front (green), back and long edges. This product will accommodate a variety of decorative treatments after proper surface preparation. Lafarge Mold Defense Type X is moisture-resistant and can be used in tile backer applications in dry areas or in areas where a degree of moisture may be expected, such as bathrooms and laundry rooms (not for use in shower and bathtub areas). Lafarge Mold Defense Type X can be used in building applications that require direct mechanical attachment to wood or metal wall and ceiling frames, or attachment to existing surfaces using fasteners or adhesives. It may also be used as a thermal barrier in roof assemblies when specified by the roofing manufacturer. To ensure optimum Type X fire-resistant performance, follow recommended installation procedures. When used in a certified sound-rated assembly, Mold Defense Type X will also contribute to required sound transmission classification (STC) values. Mold Defense* Mold Defense offers enhanced protection against the growth of mold and mildew on its surface and in its core compared to ordinary drywall products. Under controlled testing conditions, Mold Defense achieved an average panel score of 10 out of a possible 10 using ASTM D 3273. JOB NAME: CONTRACTOR: DATE: Lafarge Mold Defense products are compliant with the treated article exemption of FIFRA as determined by the U.S. Environmental Protection Agency (EPA). Note: Mold Defense Type X is suitable for interior applications only, and should not be used where temperatures exceed 125º F for extended periods or in areas of extreme humidity. Likewise, the board should be protected from exposure to adverse conditions during storage and construction. Mold Defense should not be used as a backer board directly behind tile and wall panels in tub and shower areas.
Open the catalog to page 1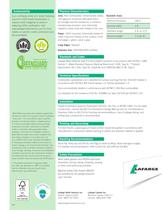 Sustainability Can contribute to the U.S. Green Building Council's LEED Credit Qualification in several credit categories to assist in obtaining LEED certification. Visit www.lafargenorthamerica.com for more details on specific credit contribution and documentation. Physical Characteristics Core: Non-combustible, dimensionally stable, inert gypsum enhanced with glass fibers for strength and fire resistance, a moistureresistant wax emulsion, and chemically treated to resist mold and mildew in the core Paper: 100% recycled; Chemically treated to resist mold and mildew on the surface; Front...
Open the catalog to page 2
All Lafarge catalogs and technical brochures

Archived catalogs

Compare up to 10 products