Catalogs

>

Lafarge

>

LIFTLITE DRYWALL
Catalog excerpts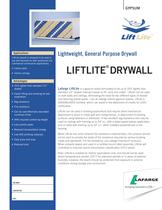 GYPSUM Applications LiftLite drywall is designed to be easy to use and decorate for both residential and commercial construction applications. • Interior walls • Interior ceilings Lightweight, General Purpose Drywall LIFTLITE DRYWALL ® Advantages • 25% lighter than standard 1/2" drywall • Easier lifting and handling for fast installation • Sag resistance • Fire resistance • Can be cost-effectively decorated numerous times • 99% recycled content by weight • Less jobsite waste • Reduced transportation energy • Low VOC-emitting materials • Easy score and snap • Reduced dust Lafarge LiftLite is a gypsum board formulated to be up to 25% lighter than standard 1/2" drywall making it easier to lift, carry and install. LiftLite can be used on both walls and ceilings, eliminating the need for two different types of drywall and reducing jobsite waste. Like all Lafarge interior gypsum boards, LiftLite is GREENGUARD Certified, which can assist in the attainment of credits for LEED certification. LiftLite can be used in building applications that require direct mechanical attachment to wood or metal wall and ceiling frames, or attachment to existing surfaces using fasteners or adhesives. It has excellent sag resistance and may be used on ceilings with framing up to 24" o.c. with a water-based texture application, and on walls with framing up to 24" o.c. when installed perpendicular to the framing. While LiftLite has some inherent fire resistance characteristics, this product should not be used to provide the levels of fire resistance required by various building codes and standards. For fire resistance, use Lafarge Firecheck® products. When properly sealed and used in a certified sound rated assembly, LiftLite will contribute to required sound transmission classification (STC) values. Note: LiftLite is suitable for interior applications only, and should not be used where temperatures exceed 125º F for extended periods or in areas of extreme humidity. Likewise, the board should be protected from exposure to adverse conditions during storage and construction. JOB NAME: CONTRACTOR: DATE:
Open the catalog to page 1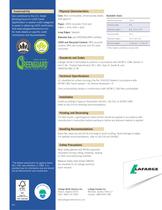 Sustainability Can contribute to the U.S. Green Building Council's LEED Credit Qualification in several credit categories to assist in obtaining LEED certification. Visit www.lafargenorthamerica.com for more details on specific credit contribution and documentation. Physical Characteristics Core: Non-combustible, dimensionally stable, inert gypsum Available Sizes: Long Edges: Tapered Asbestos free and GREENGUARD certified LEED and Recycled Content: 99% recycled content, 96% pre-consumer and 3% postconsumer 1/2 in. Nominal width 4 ft. Standard length † 8 ft., 10 ft., 12 ft. Nominal width...
Open the catalog to page 2
All Lafarge catalogs and technical brochures

Archived catalogs

Compare up to 10 products