Catalogs

>

Lafarge

>

Brochure%20Final
Catalog excerpts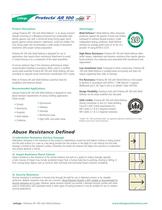 Advantages Product Description Lafarge Protecta AR 100 with Mold Defense is an abuse-resistant drywall consisting of a fiberglass-enhanced non-combustible highdensity gypsum core with a reinforced heavy facing paper which guards against surface abrasion, indentation, mold and mildew. The ivory facing paper will accommodate a wide variety of decorative treatments after proper surface preparation. Mold Defense*: Mold Defense offers enhanced protection against the growth of mold and mildew compared to ordinary drywall products. Under independent testing conditions, Mold Defense achieved an...
Open the catalog to page 2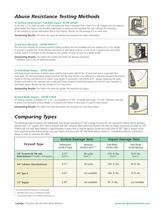 Abuse Resistance Testing Methods 1) Surface Indentation - Gardner Impact ASTM D5420 In this test, a 2 lb. steel rod with a 5/8" hemispherical head is dropped from 3 feet (72 in-lb. energy) onto the material being tested. The depth of the resulting indentation is measured and reported. This test indicates the resistance of the material to surface indentation due to hard objects. Results are the average of 3 or more tests. Interpreting Results: The lower the value the greater the resistance to surface indentation. 2) Surface Abrasion - ASTM D4977** This test was intended for mineral-surfaced...
Open the catalog to page 3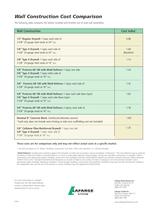 Wall Construction Cost Comparison The following table compares the relative installed and finished cost of total wall assemblies. These costs are for comparison only and may not reflect actual costs in a specific market. t All costs are based on R.S. Means "Building Construction Cost Data. These costs represent U.S. national averages *Mold Defense™ provides extra resistance against the formation of mold, but no product may be considered "mold proof." The most effective way to avoid the formation of mold and mildew in drywall products is to limit or avoid water exposure during storage,...
Open the catalog to page 4
All Lafarge catalogs and technical brochures

Archived catalogs

Compare up to 10 products