Catalogs

>

Knoll

>

Fence
Catalog excerpts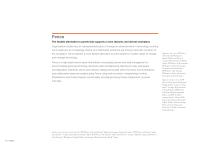 Organizations today face an unprecedented pace of change as advancements in technology, evolving work styles and an increasingly diverse and distributed workforce are driving a dramatic evolution of the workplace. Fence delivers a more flexible alternative to panel systems to better adapt to change and manage technology. Fence is a high-performance spine that delivers unsurpassed power and data management to accommodate growing technology demands while simultaneously allowing for easy workspace reconfiguration. Electrical, phone and network cabling are housed within the frame and...
Open the catalog to page 3

Freestanding tables, desks and storage are easily positioned and reconfigured along Fence to create flexible workspaces. Fence integrates with all Knoll systems, adding advanced technology management capability as well as greater planning flexibility, accommodating a range of budgets and styles. Power and proximity are key factors to creating successful Activity Spaces. Fence defines Activity Spaces while delivering convenient access to power and data. Outlets can be positioned at any point along Fence to support a growing number of work tools, including mobile devices and electric...
Open the catalog to page 4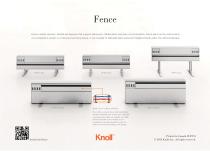 Fence Fence creates dynamic, flexible workspaces that support teamwork, collaboration and open communication. Fence plans as the central spine of a workstation cluster or continuous benching layout, or as a border to delineate team areas and neighborhoods within the office landscape. Ready Access to Power and Data Fence offers extensive lay-in cable distribution anywhere along the face of the frame. Data and communications cables are instantly accessible behind removable covers. Outlets may be positioned at any point along Fence and can easily be moved as technology needs change. Printed in...
Open the catalog to page 5
All Knoll catalogs and technical brochures

Archived catalogs
Compare up to 10 products