Catalogs

>

POLYSPORT PU 951
Catalog excerpts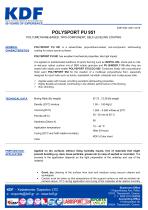 KDF Sports Flooring Systems & Building Materials POLYSPORT PU 951 POLYURETHANE-BASED, TWO-COMPONENT, SELF-LEVELING COATING GENERAL CHARACTERISTICS POLYSPORT PU 951 is a solvent-free, polyurethane-based, two-component, self-leveling coating for indoor sports surfaces. POLYSPORT PU 951 has excellent mechanical properties, like high impact. It is applied on prefabricated subfloors of sports flooring such as ISOPOL 854, shock-pad in rolls, or wet-pour rubber cushion mix of SBR rubber granules and PU BINDER 1118 after they are sealed with elastic pore sealer POLYSPORT STUCCO 950. Combines finally with polyurethane finish paint POLYSPORT 952 for the creation of a multilayer polyurethane floor, especially designed for sport halls such as tennis, basketball, handball, volleyball and multipurpose halls.  Applies easily with trowel, providing excellent self-leveling properties.  Highly flexible and elastic contributing in the athletic performance of the flooring.  Non shrinking. Mixing Ratio (By weight) Application temperature TECHNICAL DATA Curing (25°C and %60 relative humidity) After 24 hours KDF's Color chart Applied on dry surfaces without rising humidity issues, free of materials that might prevent bonding e.g. dust, loose particles, grease etc (in case of asphalt or concrete). The success in the application depends on the right preparation of the underlay and use of the material. Good, dry cleaning of the surface from dust and residues using vacuum cleaner and squeegees. Caution must be taken so that temperature of the support surface as well as ambient air ο remains above 10 C during application and curing of the materials while relative humidity KDF - Kataskeves Dapedon LTD e : exports@kdf.gr w : www.kdf.gr Showroom Office 1 Papanikolaou Ave, Pefka 57010, Thessaloniki, Greece t / f : 0030 2310 829598 Accounting Office 19 Mitropoleos Str 546
Open the catalog to page 1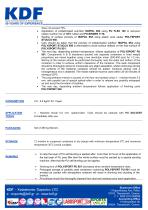 KDF Sports Flooring Systems & Building Materials does not exceed 75%. Application of prefabricated sub-floor ISOPOL 854 using PU FLEX 140 or wet-pour rubber cushion mix of SBR rubber and PU BINDER 1118. Sealing of surface porosity of ISOPOL 854 using elastic pore sealer POLYSPORT STUCCO 950. Care should be taken that the porosity of prefabricated subfloor ISOPOL 854 using POLYSPORT STUCCO 950 is eliminated to avoid surface defects on the final surface of POLYSPORT PU 951. The next day, depending ambient temperature, follows application of POLYSPORT PU 951. Components A & B (hardener) packed...
Open the catalog to page 2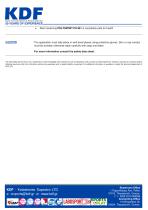 KDF Sports Flooring Systems & Building Materials After hardening POLYSPORT PU 951 is completely safe for health. The application must take place in well-aired places using protective gloves. Skin or eye contact must be avoided, otherwise wash carefully with soap and water. For more information consult the safety data sheet. The information given here is true, represents our best knowledge and is based not only on laboratory work, but also on field experience. However, because of numerous factors affecting results we offer this information without any guarantee and no patent liability is...
Open the catalog to page 3
All KDF - Sports Flooring Production catalogs and technical brochures

Compare up to 10 products