Catalogs

>

POLYBETON SYSTEM
Catalog excerpts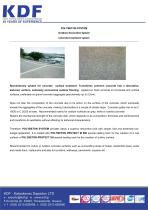 POLYBETON SYSTEM Outdoor Decorative System Concrete treatment system Revolutionary system for concrete surface treatment. Transforms common concrete into a decorative, textured, uniform, extremely economical outdoor flooring. Applied on fresh concrete on horizontal and vertical surfaces, preferably on gravel concrete (aggregate granulometry up to 2.5cm). Does not alter the composition of the concrete due to its action on the surface of the concrete, which eventually reveals the aggregates of the concrete, making it decorative in a couple of simple steps. Concrete quality has to be C 16/20 or C 20/25 at least. Recommended mainly for outdoor surfaces on grey, white or colored concrete Retains the mechanical strength of the concrete slab, which depends on its composition, thickness and reinforcement and transforms its aesthetics without affecting its technical characteristics. Therefore, POLYBETON SYSTEM provides easily a superior decorative look with simple, fast and extremely lowbudget application. It is coated with POLYBETON PROTECT M 880 special sealing resin for the creation of a mat surface or POLYBETON PROTECT SH special sealing resin for the creation of a shiny surface. Recommended for indoor or outdoor concrete surfaces such as surrounding areas of hotels, residential areas, pools and inside them, restaurants and also for corridors, walkways, pavements, squares etc.
Open the catalog to page 1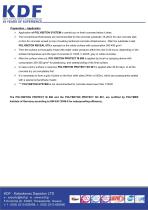 Application of POLYBETON SYSTEM is carried out on fresh concrete before it dries. The conventional thicknesses are recommended for the concrete substrate (15-20cm for new concrete slab or 8cm for concrete screed on top of existing reinforced concrete infrastructure). After the substrate is laid, POLYBETON REVEAL 879 is sprayed on the whole surface with consumption 300-400 gr/m² Then the surface is thoroughly rinsed with water under pressure within the next 5-24 hours, depending on the ambient temperature and the type of concrete (C 16/20, C 20/25, grey or white concrete). After the surface...
Open the catalog to page 2
All KDF - Sports Flooring Production catalogs and technical brochures

Compare up to 10 products