Catalogs

>

POLFLOOR-PU 807 CLEAR
Catalog excerpts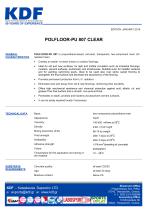 KDF Sports Flooring Systems & Building Materials GENERAL CHARACTERISTICS POLFLOOR-PU 807 is polyurethane-based, anti-dust, transparent, two-component resin UVresistant resin.  Creates an easier -to-clean indoor or outdoor floorings. Ideal for old and new surfaces, for light and middle circulation such as industrial floorings, mosaics, cement surfaces, workshops, and storehouses. Suitable even for metallic surfaces and for painting swimming pools. Ideal to be used also over stone carpet flooring to strengthen the final surface and decrease the absorbency of the flooring. Provides permanent protection from U.V. radiation. Eliminates dust and decay from old & new floorings, reinforcing their durability. Offers high mechanical resistance and chemical protection against acid, alkalis, oil, and grease if the final surface has a smooth, non-porous finish. Penetrates in depth, protects and hardens old absorbent cement surfaces. It can be easily repaired locally if necessary. two-component polyurethane resin liquid Final strength: Adhesive strength: Temperature for the application and drying of the material: Concrete quality: Moisture content: SUBSTRATE REQUIREMENTS Basis: Appearance: TECHNICAL DATA KDF - Kataskeves Dapedon LTD e : exports@kdf.gr w : www.kdf.gr Showroom Office 1 Papanikolaou Ave, Pefka 57010, Thessaloniki, Greece t / f : 0030 2310 829598 Accounting Office 19 Mitropoleos Str 54624, The
Open the catalog to page 1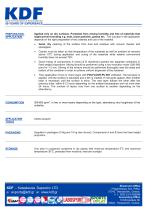 KDF Sports Flooring Systems & Building Materials Applied only on dry surfaces. Protected from arising humidity and free of materials that might prevent bonding e.g. dust, loose particles, grease etc. The success in the application depends on the right preparation of the underlay and use of the material.  Good, dry cleaning of the surface from dust and residues with vacuum cleaner and squeegees. Caution must be taken so that temperature of the substrate as well as ambient air remains ο above 10 C during application and curing of the materials while relative environment humidity does not...
Open the catalog to page 2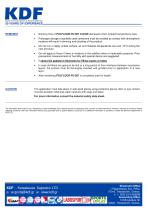 KDF Sports Flooring Systems & Building Materials Working time of POLFLOOR-PU 807 CLEAR decreases when ambient temperature rises. Prolonged storage of partially used containers must be avoided as contact with atmospheric moisture will result in skinning and clouding of the product. Do not mix or apply unless surface, air and material temperatures are over 10°C during the next 24 hours. Do not apply to floors if there is moisture in the subfloor drive or hydrostatic pressure. Prior precautions measurements of humidity with special device are suggested. It cannot be applied in thickness for...
Open the catalog to page 3
All KDF - Sports Flooring Production catalogs and technical brochures

Compare up to 10 products