Catalogs

>

KASTHALL

>

Rita
Catalog excerpts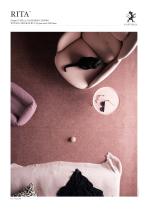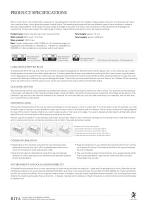 PRODUCT SPECIFICATIONS Rita is woven from two of Kasthall's unique yarns: new-generation chenille with two shades of best quality wool yarn, and a bouclé yarn spun from wool and linen, which gives the carpet a subtle lustre. The weaving technique and the two different types of yarn combine to create a discreet striped pattern which gives the rug a subtle and elegant structure. The rocks, sea and scenery of the Stockholm archipelago has inspired the 13 new colourways. The wide range of colours makes Rita eminently at home in all types of settings. Product type: Woven chenille rug in pure...
Open the catalog to page 2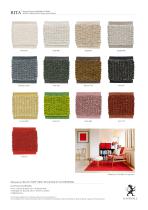 Design GUNILLA LAGERHEM ULLBERG WOVEN CHENILLE RUG IN pure wool AND linen Waterlane – Rita Red in living room Showrooms in MILAN • NEW YORK • STOCKHOLM • GOTHENBURG KASTHALL HQ SWEDEN Phone +46 320 20 59 00, Fax +46 320 20 59 01 Fritslavägen 42, Box 254, SE-511 23 Kinna, Sweden info@kasthall.se For the latest updates of our collection, please visit www.kasthall.com All the designs shown here are protected under law. Kasthall have the property rights and distribution rights worldwide. Copying will be prosecuted.
Open the catalog to page 3
All KASTHALL catalogs and technical brochures

Archived catalogs

Compare up to 10 products