Catalogs

>

Iron-Age-Tree-Grates
Catalog excerpts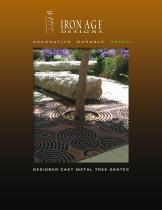 Landscape and hardscape improvements, in both public and private settings are increasingly diverse and well planned areas. Iron Age decorative tree grates can add the finishing touch to such places, adding interest and value. Moreover, Iron Age grates are priced to be competitive with their more utilitarian counterparts, so aesthetic value can be achieved simultaneously with function, without the high cost normally associated with upgrades like these. Specifications Specification Drawings: For individual drawings of our products, please visit our website at IronAgeGrates.com or call 206-276-0925. Materials: Standard Material is Cast Grey Iron per ASTM A48 CL 25 or better. Standard Finish is raw, as cast. Material Options: Cast Aluminum per ASTM B26, Cast Ductile Iron, or Cast Silicon Bronze. Sizes: All dimensions are nominal. Due to variations in the properties of different metals, dimension may vary slightly from casting to casting. More Designs Coming Soon! In our ongoing effort to bring artful castings to market, we are constantly designing new products for all kinds of surface application. It is our mission to alter the paradigm of what is expected when it comes to cast trench drain and drain covers. 4'X6' KELP TREE GRATE, CAST IRON, WITH BAKED ON OIL FINISH. Do you have questions? Would you like to have something custom designed for your project? Please contact us via email at info@IronAgeGrates.com, or call 206-276-0925. Thank you for your support. IronAgeGrates.com 206.276.0925 206.257.0318 EMAIL info@IronAgeGrates.com WEB Printed on recycled paper stock. Iron Age Designs® reserves the right to change or discontinue products at any time. © Copyright 2011 Iron Age Designs
Open the catalog to page 1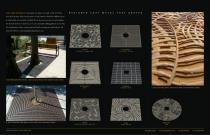 Iron Age Designs® decorative tree grates are made in the U.S. from recycled cast iron. Next to the name of each pattern is listed the different sizes in which they are currently available. If you do not see a size you are looking for don't hesitate to contact us, as we are constantly adding patterns to our line. For installations where custom material, finish, or sizing is needed, please call 206-276-0925 or email info@IronAgeGrates.com. 5'X8' MERCADO TREE GRATE, CAST DUCTILE IRON, WITH BAKED ON OIL FINISH. 5' SQ DIVISADERO TREE GRATE, CAST IRON, WITH NATURAL FINISH. All products are ADA...
Open the catalog to page 2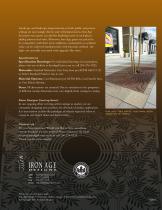 Landscape and hardscape improvements, in both public and private settings are increasingly diverse and well planned areas. Iron Age decorative tree grates can add the finishing touch to such places, adding interest and value. Moreover, Iron Age grates are priced to be competitive with their more utilitarian counterparts, so aesthetic value can be achieved simultaneously with function, without the high cost normally associated with upgrades like these. Specifications Specification Drawings: For individual drawings of our products, please visit our website at IronAgeGrates.com or call...
Open the catalog to page 3
All IRON AGE DESIGNS catalogs and technical brochures
Compare up to 10 products