Catalogs

>

Riva Shower
Catalog excerpts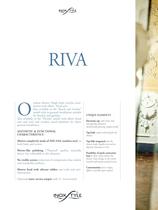 utdoor shower. Single body circular crosssection with elbow fitted arm. Also available in the "Beach and Garden" model with in-ground installation suitable for beaches and gardens. Also available in the "Florida" model with elbow fitted arm and steel and wooden raised platform for above ground installation. UNIQUE ELEMENTS AESTHETIC & FUNCTIONAL CHARACTERISTICS Tap body made exclusively for the shower. Shower completely made of AISI 316L stainless steel, in both body and screws. Tap fully integrated into the shower body. Smaller size and no deposits, limestone or rust. Mirror-like polishing ("Nautical" quality, manually done): less vulnerable to the elements. No visible screws: reduction of components that oxidize and wonderful aesthetic. Shower head with silicone rubber anti-scale and antiobstruction. Optional water service output with ½" metal nozzle. Electronic tap with timer and massage flow function. Aesthetically pleasing, tamper-proof. Possibility of quick connection base to more easily remove the shower. Easy storage in the winter months and tamper-proof security. Customization (text or logos, lights) is possible upon request.
Open the catalog to page 1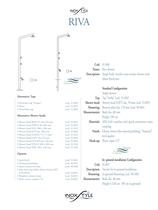 Alternative Taps • Electronic tap "Genius" • Mixer • Timed flow tap Alternative Shower heads • Shower head BEAUTY dia 225 mm • Shower head DISCO dia 200 mm • Shower head EVO 200 x 200 mm • Shower head EVO dia. 200 mm • Shower head FLAVIA 75 x 75 mm • Shower head LOFT dia. 65 mm • Shower head OCEAN dia. 150 mm • Shower head STYLO 200 x 200 mm • Shower head ZOE 150 x 150 mm Cod: 01.006 Name: Riva shower Description: Single body circular cross-section shower with elbow fitted arm Tap: Shower head: Mounting: Measurements: Materials: Finish: Hook-up: Options • Satin finish • Mounting backplate •...
Open the catalog to page 3
All Inoxstyle catalogs and technical brochures

Archived catalogs
Compare up to 10 products