Catalogs

>

Lucellino Table
Catalog excerpts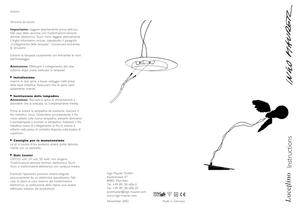 Italiano Versione da tavolo Importante: Leggere attentamente prima dell'uso. Nel caso della versione con trasformatore-sensoredimmer elettronico Touch Tronic leggere attentamente il foglio informativo incluso, soprattutto il paragrafo "Collegamento della lampada". Conservare entrambe le istruzioni! Estrarre la lampada cautamente con entrambe le mani dall'imballaggio. Attenzione: Effettuare il collegamento alla rete soltanto dopo avere collocato la lampada! L Installazione Inserire le due spine a basso voltaggio nelle prese della base metallica. Assicurarsi che le spine siano saldamente inserite. L Sostituzione della lampadina Attenzione: Staccare la spina di alimentazione e attendere che la lampada sia completamente fredda. L Consiglio per la manutenzione Le ali in piume d'oca possono essere pulite delicatamente con un pennello. L Dati tecnici 230/125 volt, 24 volt, 50 watt, non alogena. Trasformatore-sensore-dimmer elettronico Touch Tronic o trasformatore elettronico con varialuce lineare. Eventuali riparazioni possono essere eseguite esclusivamente da un elettricista specializzato. Nel caso di danni al cavo esterno del trasformatore elettronico, la sostituzione dello stesso può essere effettuata soltanto dal produttore! Ingo Maurer GmbH Kaiserstrasse 47 80801 München Tel. +49. 89. 381 606-0 Fax +49. 89. 381 606 20 postmaster@ingo-maurer.com www.ingo-maurer.com November 2002 ਞ Made in Germany Lucellino Instructions Prima di svitare la lampadina da sostituire, staccare il filo metallico rosso. Distendere accuratamente il filo rosso saldato sulla nuova lampadina, passarlo attraverso il portalampada e avvitare la lampadina. Adattare il filo metallico rosso di collegamento al filo di ottone e infilarlo nella presa di contatto disposta sulla piastra di copertura.
Open the catalog to page 1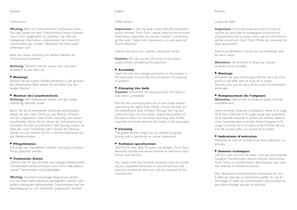 Deutsch English Français Tischversion Table version Lampe de table Wichtig: Bitte vor Inbetriebnahme aufmerksam lesen. Falls die Lampe mit dem Transformator-Sensor-Dimmer Touch Tronic ausgestattet ist, beachten Sie bitte die beiliegende Information, insbesondere den Abschnitt "Anschließen der Lampe". Bewahren Sie bitte beide Unterlagen auf! Important: In case the lamp comes with the transformersensor-dimmer Touch Tronic, please observe the enclosed information, especially the section headed "Connecting up the lamp". Keep both documents in a safe place for future reference! Important: A lire...
Open the catalog to page 2
All INGO MAURER catalogs and technical brochures
Archived catalogs

Compare up to 10 products