Catalogs

>

IDOMUS

>

IMPACT PROTECTION
Catalog excerpts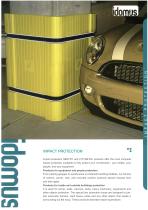 IMPACT PROTECTION Impact protection SENTRY and CITYMETAL products offer the most complete impact protection available to fully protect your investments - your facility, your people, and your equipment. Products for equipment and people protection From parking garages to warehouses to materials-handling facilities, our full-line of column, corner, rack, and concrete cushion products absorb impacts time and time again. Products for inside and outside buildings protection It is used for corner, walls, columns, racks, heavy machinery, equipments and other objects protection. The special box protection hoops are designed to protect automatic barriers, cash boxes, poles and any other object, that needs a surrounding but flat hoop. These products decrease repair expenditure.
Open the catalog to page 1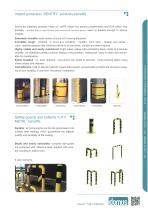 Impact protection "SENTRY" products benefits Sentry are patented products made of LLDPE (linear low density polyethylene) and EVA (ethyl vinyl acetate) - molded from a semi-flexible and stress-crack resistant plastic, which is flexible enough to absorb impacts. Extremely versatile: wide variety of sizes to fit most applications Incredibly tough: protects in most any condition, molded from semi - flexible and stress crack resistant plastics that minimize the force of tow motor, vehicle and other impacts Highly visible and easily maintained: bright safety yellow with contrasting black straps...
Open the catalog to page 2
All IDOMUS catalogs and technical brochures
Archived catalogs

Compare up to 10 products