Catalogs

>

HMIP-SWDO
Catalog excerpts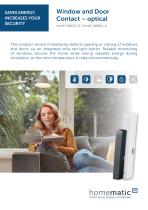 SAVES ENERGY, INCREASES YOUR SECURITY Window and Door Contact – optical HMIP-SWDO The compact sensor immediately detects opening or closing of windows and doors via an integrated infra-red light barrier. Reliable monitoring of windows secures the home while saving valuable energy during ventilation, as the room temperature is reduced automatically. Smart Living, Simply Exciting.
Open the catalog to page 1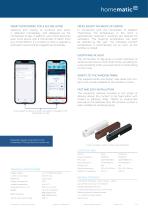 SMART MONITORING FOR A SECURE HOME Opening and closing of windows and doors is detected immediately and displayed via the Homematic IP app. In addition, your home becomes even more secure with a Homematic IP Alarm Siren (e.g. HmIP-ASIR-2). If a window or door is opened, a loud alarm sound will be triggered automatically. FRESH AIR BUT NO WASTE OF ENERGY In connection with the Homematic IP Radiator Thermostat, the temperature in the room is automatically reduced if windows are opened for ventilation. The lowering temperature can even be defined by the user. The individual comfort temperature...
Open the catalog to page 2
All Homematic IP by eQ-3 catalogs and technical brochures

Compare up to 10 products