Catalogs

>

Hisbalit

>

aniversario
Catalog excerpts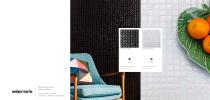 binomio blanco negro mezcla de relieves pairing of black and white combination of different relief designs I > El ► (■ i ■EC a > >' I ■El ► i > ► EIBUII i g ► i ► ;► :► vcmwmn ► El" PIRAMIDAL NEGRO TRABADO BLANCO Piramidal Pyramidal Trabado Interlocked Tambien disponible en color blanco. Also available in white. Tambien disponible en color negro. Also available in black.
Open the catalog to page 2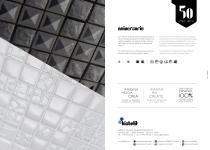 amuersdrio Con motivo de nuestro 50 aniversario rescatamos dos de los primeros formatos que fabricamos, Piramidal y Trabado, y los reeditamos adaptados a las tendencias actuales. El binomio blanco negro y la mezcla de relieves son las claves de esta coleccion. On the occasion of our 50th Anniversary we have decided to bring back two of the first formats we manufactured: Pyramidal and Interlocked, revisiting and adapting both to today's trend. The pairing of black and white and the combination of different relief designs are the essential components of the collection. Los modelos Aniversario...
Open the catalog to page 3
All Hisbalit catalogs and technical brochures

Archived catalogs
Compare up to 10 products