Catalogs

>

Plia
Catalog excerpts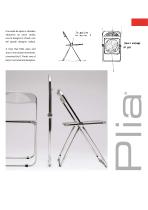 Una sedia da aprire e chiudere attraverso un unico snodo, così la disegnò G. Piretti, uno dei grandi designer Italiani. A chair that folds open and shut in one simple movement, conceived by G. Piretti, one of Italy's most eminent designers.
Open the catalog to page 2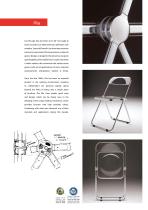 Con Plia alla fine dei mitici "anni '60" nei luoghi di lavoro la sedia esce dall'anonimato, dall'essere cioè semplice "parte dell'arredo" per diventare presenza autonoma e personale. Plia è espressione e sintesi di gusto e design, un progetto che attraverso una parte specificadellasuaforma(ilfamoso"snodo")trasmette il valore estetico del movimento alla seduta stessa grazie anche ad un'applicazione di nuovi materiali assolutamente anticipatoria rispetto ai tempi. Since the late 1960's, Plia has been an essential product in the working environment, revealing its independent yet personal...
Open the catalog to page 3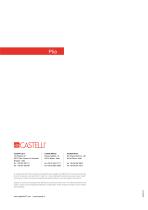 Castelli S.p.A. Via Einstein, 63 40017 San Giovanni in Persiceto Bologna ▪ Italia tel. + 39 051 820 111 fax + 39 051 826 987 Castelli Milano Piazza Castello, 19 20121 Milano ▪ Italia Castelli Roma Eur Piazza Marconi, 14E 00144 Roma ▪ Italia Le caratteristiche tecniche e la gamma dei prodotti sono soggetti a modifiche. Non si garantisce l'assenza di errori di stampa o altri errori. Tutti i marchi e i nomi dei prodotti menzionati possono essere marchi commerciali o marchi commerciali registrati dei rispettivi titolari e come tali vengono riconosciuti. Subject to technical and programme...
Open the catalog to page 4
All Haworth Europe catalogs and technical brochures

Archived catalogs

Compare up to 10 products