Catalogs

>

Architectural Mesh for Parking Garages.
Catalog excerpts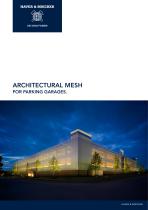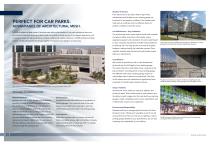 Natural Ventilation Architectural mesh is light, durable and transparent, providing an array of benefits for parking facilities. The transparency of architectural mesh allows it to act as a natural ventilation system. By utilizing architectural mesh on the facade of your parking facility, you can eliminate the need for costly HVAC systems, which will not only reduce energy costs but also have a positive environmental impact. Additionally, the openness of the mesh allows an abundance of natural light and air to flow through the parking facility, allowing car emissions to be dispersed outside...
Open the catalog to page 2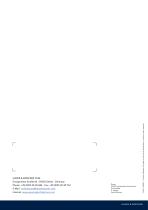 Great Britain H&B Wire Fabrications Ltd. 30-32 Tatton Court Kingsland Grange, Woolston GB-WARRINGTON, Cheshire WA1 4RR Phone: +44-1925-81 95 15 Fax: +44-1925-83 17 73 E-Mail: architecture@hbwf.co.uk Internet: www.hbwf.co.uk U.S.A. W.S. TYLER - Industrial Group 8570 Tyler Boulevard USA-MENTOR, Ohio 44060 Phone: +1-440-974-1047 +1-800-321-6188 Fax: +1-440-974-0921 E-Mail: archsales@wstyler.com Internet: www.tylerdesignmesh.com Brazil HAVER & BOECKER Industria e Comercio de Maquinas Ltda. Rod. Campinas a Monte Mor km 20 13190 MONTE MOR S.P. Telefone: +55-19-3879 9147 Fax: +55-19-3879...
Open the catalog to page 3
All HAVER & BOECKER OHG catalogs and technical brochures

Compare up to 10 products