Catalogs

>

BF-Print
Catalog excerpts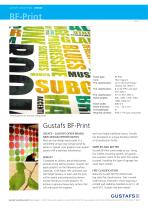 GUSTAFS COLLECTION - DESIGN Panel type: Core: Fire classification: BF-Print Fiber Gypsum A 2-s1,d0 (Craft Paper/ Veneer), EN 13501-1 Fire classification: -s1,d0 (HPL Laminate), B EN 13501-1 Fire classification: K2-10, EN 13501-2 Panel lengths: 6 00, 1000, 1200, 1500, 1800, 2400 mm Panel width: 600 mm Panel thickness: 13,2 – 14,1 mm Formaldehyde: E1 Recycled content: 4% (17% post consumer) 9 Printed graphics on wall and ceiling panels Gustafs BF-Print CREATE – GUSTAFS OFFER BRAND NEW DESIGN OPPORTUNITIES Now you can design every panel in a completely unique way. Design panel by panel or spread your graphics over several panels with a seamless transference. ROBUST Compared to stickers, pre-printed panels provide a long lasting solution. Gustafs can apply graphics on the following surface materials; Craft Paper, HPL Laminates and real Wood Veneers. In each case the print will be sealed and protected by environ­ mental friendly UV-cured lacquers. To achieve a genuine heavy duty surface that will withstand the toughest and most highly trafficked rooms, Gustafs has developed an unique bonding method at its production facility. SIMPLER AND BETTER Gustafs BF-Print come ready to use. Using the CAPAX mounting system, we guarantee a perfect match of the print from panel to panel. Installing this type of signage has never been simpler. FIRE CLASSIFICATION Naturally Gustafs BF-Print Panels have top rated fire classifications. Take a world wide famous restaurant chain requiring a printed wall cladding classified as A2-s1, d0 and K210. Gustafs met their needs!
Open the catalog to page 1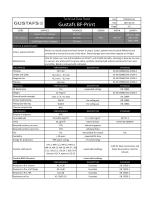 Technical Data Sheet Gustafs BF-Print Veneer, Print + Lacquer Craft Paper, Print + Lacquer CORE Fiber Gypsum ESTETICS & MAINTENANCE Colour, pattern & finish Wood is a natural product and each veneer is unique. Colour, pattern and structural differences are considered as normal and a part of the décor. Wood changes over time when exposed to UV-light. Only for indoor use. Use and installation at 18-50 C° and 25-60% humidity. Cleanings is done by dry mop or vacuum. Use white spirit for greasy stains, synthetic cleaning fluid without ammonia for fruit, wine and coffee. Blood is removed with...
Open the catalog to page 2
All Gustafs Scandinavia AB catalogs and technical brochures

Archived catalogs

Compare up to 10 products