Catalogs

>

Grundfos

>

COMFORT PM AUTOADAPT
Catalog excerpts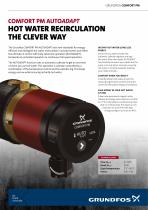 HOT WATER RECIRCULATION THE CLEVER WAY The Grundfos COMFORT PM AUTOADAPT sets new standards for energyefficient and intelligent hot water recirculation in private homes and offers the ultimate in control with fully automatic operation (AUTOADAPT), temperature-controlled operation or continuous full speed operation. The AUTOADAPT function uses an automatic calendar to get an overview of when you use hot water. This operation is calendar-controlled by a combination of the temperature control and the calendar log. This keeps energy use low while ensuring instantly hot water. INSTANT HOT WATER USING LESS ENERGY Every time you tap hot water, the automatic calendar registers and logs this event. After two weeks, AUTOADAPT functionality has learnt your habits and the pump runs only when necessary, ensuring hot water is instantly available, meeting your needs precisely. COMFORT WHEN YOU NEED IT Instantly delivers hot water all over the house, giving the best comfort and at the same time the lowest energy consumption. SAVE MONEY IN YOUR HOT WATER SYSTEM A low noise permanent magnet motor reduces the energy consumption to as little as 5-7 W. Compared to conventional pumps that run continuously, this equals a cost reduction of up to 97 % with heat energy savings of as much as 48 %. TECHNICAL DATA Flow, Q max: Head, Hmax: Liquid temperature: Power:
Open the catalog to page 1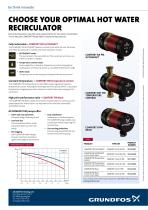 bethink innovate CHOOSE YOUR OPTIMAL HOT WATER RECIRCULATOR Not all homeowners have the same requirements for hot water recirculation. That is why the COMFORT PM portfolio includes three products: Fully automated - COMFORT PM AUTOADAPT The COMFORT PM AUTOADAPT delivers instantly hot water all over the house and offers the ultimate in control with three operation modes: • AUTOADAPT mode: The pump learns the user pattern of the customer and only runs when hot water is needed • Temperature control mode: Pump regulation is based on temperature control, keeping the working area of the pump...
Open the catalog to page 2
All Grundfos catalogs and technical brochures

Compare up to 10 products