Catalogs

>

PRIVA-LITE
Catalog excerpts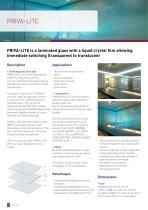 PRIVA-LITE is a laminated glass with a liquid crystal lm allowing immediate switching (transparent to translucent Description • Technological principle PRIVA-LITE is an active glass which, under the effect of an electric current, switches from translucent to transparent with no alteration of light transmission. - Interior/exterior partitions; - doors; - security glazings; - projection screens; - shop fronts; - glass oors. Two layers of glass (SGG PLANILUX ou extra clear) encapsulate a liquid crystal (LC) lm inserted between two EVA panes. This LC lm is constitued by two PET lms coated with...
Open the catalog to page 2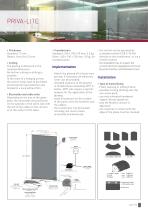 • Transformers Standard: 240 x 190 x 95 mm, 5.5 kg Other: 240 x 190 x 120 mm, 10 kg, for multiple panes. • Thickness Standard: 12 mm. Others: from 8 to 22 mm. • Cutting The glazing is delivered in the required dimension. No further cutting or drilling is possible. In the event of a hanging screen, the anchor holes have to be drilled previously during production and located in a zone without lm. - Switch the glazing off at least once per day. If necessary an electronic timer can be provided; - intended exposure of the glazing to temperatures exceeding 60°C or below -20°C will require a...
Open the catalog to page 3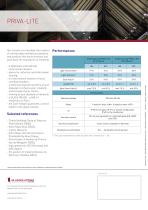 - A dedicated, international commercial network; - places for reection and information sharing; - an international network of local, certied installers; - a technical engineering ofce at your disposal to enhance your creativity and concept of your choice; - training at your disposal on demand; - a GLASS HOUSE - a 400 m² showroom in Paris; - the Saint-Gobain guarantee, a world leader in the glass industry. Performances Simple glazing PRIVA-LITE 55.4 (12mm) Double glazing PRIVA-LITE 55.4 (28mm) Light transmission* Light reection* Solar factor* Haze (level of blur)* Technical data Operating...
Open the catalog to page 4
All Glassolutions catalogs and technical brochures

Compare up to 10 products