Catalogs

>

RIN
Catalog excerpts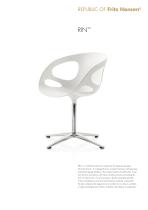 RIN™ is a multifunctional chair created by the Japanese designer Hiromichi Konno. It is designed to be in perfect harmony with Japanese and Danish design traditions. The original idea for the RIN chair came from Konno's fascination with nature and the curiosity surrounding the form of a bird's nest. He was spurred on by the immediate paradox of how something so practical and functional could be so beautiful. He also compares the appearance to another of one nature's wonders: a single standing flower and the confidence and beauty it exuberates.
Open the catalog to page 1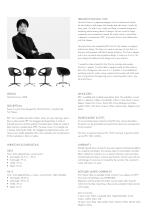 Hiromichi Konno 1972Hiromichi Konno is a Japanese designer with an international outlook. He has studied in both Japan and Sweden and also lived in London for many years. His style is very unique and there is a special energy and something almost teasing about his designs. He now works for large companies and manufacturers around the world, and he is particularly in demand in Scandinavia. RIN™ is Hiromichi Konno's first collaboration with Fritz Hansen. Hiromichi Konno has created the RIN chair for Fritz Hansen; an elegant and futuristic design. The idea is to create a new type of chair that...
Open the catalog to page 2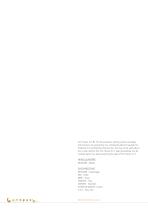 Fritz Hansen A/S ® - This documentation and the products and designations therein are protected by law, including the Danish Copyright Act, Trademark Act and Marketing Practices Act, and may not be used without prior written authority from Fritz Hansen A/S. Legal proceedings may be instituted against any parties breaching the rights of Fritz Hansen A/S. HEADQUARTERS DENMARK - Allerød SHOWROOMS DENMARK - Copenhagen ITALY - Milan JAPAN - Tokyo NORWAY - Oslo SWEDEN - Stockholm UNITED KINGDOM - London U.S.A. - New York
Open the catalog to page 4
All Fritz Hansen catalogs and technical brochures
Archived catalogs
Compare up to 10 products