Catalogs

>

PK31
Catalog excerpts
The PK31™ chair and sofa series is a prime example of Kjærholm's ability to create furniture that can be tailored to a room and still keep the identity of the single piece of furniture. The PK31 is, in other words, also a selfcontained freestanding object and a realization of Kjærholm's quest to find an ideal form. This is confirmed by the chair, which defines a cube of 76 cm on a side, with the seat height at the midpoint. The PK31 series combines elegant luxury with comfort.
Open the catalog to page 1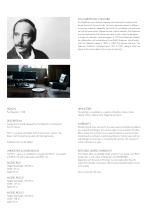 Poul Kjærholm 1929-1980 Poul Kjærholm was a trained carpenter and continued his studies at the Danish School of Arts and Crafts. He had a particular interest in different construction materials; especially steel which he considered a natural material with the same artistic fineness as other natural materials. Poul Kjærholm was first employed at Fritz Hansen for about a year, where he designed a number of noteworthy chair prototypes. In 1955 Poul Kjærholm initiated his collaboration with manufacturer Ejvind Kold Christensen, which lasted until Poul Kjærholm's death in 1980. In 1982, Fritz...
Open the catalog to page 2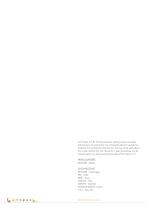 Fritz Hansen A/S ® - This documentation and the products and designations therein are protected by law, including the Danish Copyright Act, Trademark Act and Marketing Practices Act, and may not be used without prior written authority from Fritz Hansen A/S. Legal proceedings may be instituted against any parties breaching the rights of Fritz Hansen A/S. HEADQUARTERS DENMARK - Allerød SHOWROOMS DENMARK - Copenhagen ITALY - Milan JAPAN - Tokyo NORWAY - Oslo SWEDEN - Stockholm UNITED KINGDOM - London U.S.A. - New York
Open the catalog to page 4
All Fritz Hansen catalogs and technical brochures
Archived catalogs
Compare up to 10 products