Catalogs

>

Dot
Catalog excerpts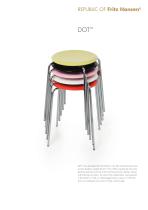 DOT™ was developed by Fritz Hansen in the 50's around the same time as Arne Jacobsen created the Ant™ chair. While creating the chair Arne Jacobsen spent a lot of time at the Fritz Hansen factory testing, refining and finalizing his project. The result of the collaboration was presented to the market in 1954 as a three legged stool in veneer. In 1970 the stool was revitalized as we know it today, with four legs.
Open the catalog to page 1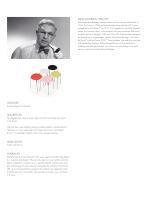 ARNE JACOBSEN 1902-1971 The cooperation between Arne Jacobsen and Fritz Hansen dates back to 1934. But it was in 1952 the break-through came with the Ant™. It was succeeded by the Series 7™ in 1955. This propelled his and Fritz Hansen's names into furniture history. Arne Jacobsen was very productive both as an architect and as a designer. At the end of the 50s Arne Jacobsen designed the Royal Hotel in Copenhagen, and for that project the Egg™, the Swan™, the Swan™ sofa and Series 3300™. Arne Jacobsen was and is an admired and outstanding designer. While the significance of Arne Jacobsen's...
Open the catalog to page 2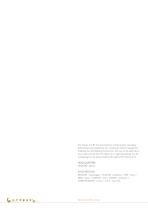 Fritz Hansen A/S ® - This documentation and the products and designations therein are protected by law, including the Danish Copyright Act, Trademark Act and Marketing Practices Act, and may not be used without prior written authority from Fritz Hansen A/S. Legal proceedings may be instituted against any parties breaching the rights of Fritz Hansen A/S. HEADQUARTERS DENMARK - Allerød SHOWROOMS DENMARK - Copenhagen / HOLLAND - Amsterdam / ITALY - Milan / JAPAN - Tokyo / NORWAY - Oslo / SWEDEN - Stockholm / UNITED KINGDOM - London / U.S.A. - New York
Open the catalog to page 4
All Fritz Hansen catalogs and technical brochures
Archived catalogs
Compare up to 10 products