Catalogs

>

CALABASH™ NEW COLOURS
Catalog excerpts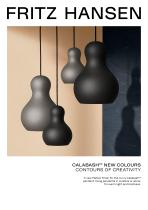 CALABASH™ NEW COLOURS CONTOURS OF CREATIVITY A new Meteor finish for the curvy Calabash™ pendant. Hang pendants in clusters or alone, for warm light and boldness.
Open the catalog to page 1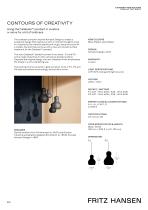 CALABASH™ NEW COLOURS PRODUCT FACT SHEET CONTOURS OF CREATIVITY Hang the Calabash™ pendant in clusters or alone for a bit of boldness The calabash pumpkin inspired Komplot Design to create a sculptural design that stands out with or without the light turned on. Inspired by the metallic sparkle and rough, sandy structure of a meteor, Komplot has come up with a new and vibrant surface treatment for the Calabash™ pendant. The new, Calabash™ pendant comes in two sizes - P1 and P2 and is made of aluminium with a structure painted surface. Opposite the original design, the new Calabash finish...
Open the catalog to page 2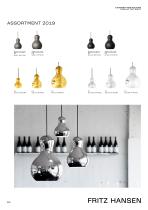 CALABASH™ NEW COLOURS PRODUCT FACT SHEET ASSORTMENT 2019 NEW COLOUR NEW COLOUR GREY METEOR GREYM ETEOR NEW COLOUR P1 BLACK METEOR NEW COLOUR P2 BLACK METEOR FRITZ HANSEN
Open the catalog to page 3
All Fritz Hansen catalogs and technical brochures
Archived catalogs
Compare up to 10 products