Catalogs

>

FLOORFASHION
Catalog excerpts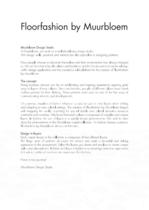 Muurbloem Design Studio At Muurbloem, we work as a multidisciplinar/ design studio. We design walls, products and interiors but also specialise in designing patterns. How people choose to decorate themselves and their environments has always intrigued us. We are fascinated by old cultures and traditions and this has broadened our knowledge within design application and has created a solid platform for the creation of Floorfashion Doing business abroad can be an exhilarating and inspiring experience opening gate- ways to layers of new cultures. Since ancient time, people of different...
Open the catalog to page 3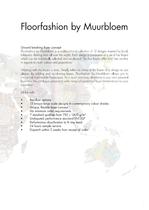 Ground breaking layer concept Floorfashion by Muurbloem is a multifunctional collection of 12 designs inspired by local, folkloristic clothing from all over the world. Each design is composed of a set of four layers which can be individually selected and recoloured. The four layers differ from one another in regards to motif, colours and proportions. Working with the layers is easy. Simply select as many of the layers of a design as you please. By adding and recolouring layers, Floorfashion by Muurbloem allows you to create truly fashionable floorscapes. As a quick and easy alternative to...
Open the catalog to page 5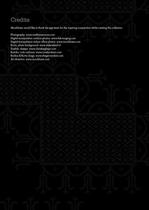 Muurbloem would like to thank the ege team for the inspiring cooperation while creating this collection. Photography: www.matthijsvanroon.com Digital manipulation outdoor photos: www.fisk-imaging.com Digital manipulation indoor office photos: www.muurbloem.com Kurta; photo background: www.stijlendetail.nl Dashiki; sheeps: www.clairebegheyn.com Kamiks; rock cushions: www.roneljordaan.com Bodice & Kurta; bags: www.vliegervandam.com
Open the catalog to page 99
All Egetæpper catalogs and technical brochures

Archived catalogs
Compare up to 10 products