Catalogs

>

African Mahogany Weathered Silvergrey
Catalog excerpts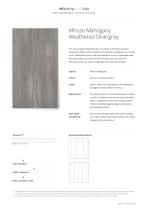 ebony am co handcrafted wood floors This natural grey driftwood look can only be achieved by outdoor weathering. When newly installed, our decking is orange-brown. Thanks to our Deckfresh formula, the deck weathers out to a sustainable silky silver-grey after just a few months of exposure to rain and sun. This look works very well on long planks for decking and walls. Species African Mahogany Finish12 natural unfinished surface Origin Sipo or khaya true mahogany from responsibly managed forests in Western Africa. Maintenance This natural patina is low maintenance on decks or walls. If cleaned from time to time with water with our Deckfresh finish, the dry grey surface remains protected against algae and keeps its pure weathered look. Spot repair Any surface damage needs only some sanding, and Refinish as the bare wood will quickly weather out to grey Recommended patterns Color variation Traffic resistance Patina change in time Whilst we endeavour to portray grain and colour as realistically as possible in our samples and photography, a sample or a photo can never be an exact representation of an entire floor. As wood is a natural material, variations in colour and grain occur. Floors may also change in appearance over time through exposure to light, wear and tear, and maintenance. Pre-finishing of solid floors may be subject to stricter recommendations for limited board dimensions and climate control. Read further on the next page.
Open the catalog to page 1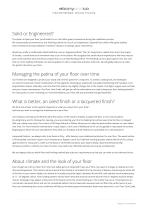 Solid or Engineered? The option to have your floor 'pre-finished' in our mill offers great convenience during the installation process. We unreservedly recommend our pre-finishing solution for any of our Engineered 2-layered floors which offer great stability and convenience during installation. However, beauty is not always about convenience. Would you prefer a traditionally milled Solid floor over an Engineered floor? Then it's important to realize that, due to the impact of climate, a small amount of movement may occur in the boards. We recognize that small natural imperfections like...
Open the catalog to page 2
All EBONY AND CO catalogs and technical brochures
Compare up to 10 products