Catalogs

>

EBAN

>

KNOBS & HANDLES
Catalog excerpts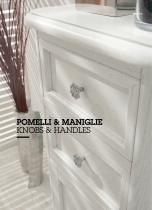 SPECCHIERA FILO LUCIDO ORIENTAMENTO: VERTICALE_ORIZZONTALE POLISHED UNFRAMED MIRROR ORIENTATION: VERTICAL_HORIZONTAL POMELLI & MANIGLIE KNOBS & HANDLES
Open the catalog to page 1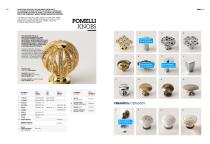 282 I un dettaglio piccolo ma non meno importante. da curare sotto ogni aspetto dal design al materiale. ecco un'ampia offerta di pomelli eleganti ed originali, scelti per rendere il mobile bagno ancora piu prezioso. EBAN I 283 the tiny last but not least detail, to care for under any aspects, from design to materials. here is a rich range of elegant and original knobs, selected to enrich bathroom elements. pomelli knobs una creazione speciale. realizzata interamente a mano utilizzando material! pregiati, nasce dalla microfusione sottovuoto dellottone, la stessa impiegata nella produzione...
Open the catalog to page 2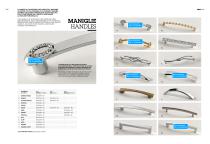 la maniglia, l'accessorio che completa e aggiunge ulteriore stile e personalita al quadro d'insieme. un'ampia selezione di maniglie di elevata qualita, scelte per durare nel tempo ed assicurare la migliore funzionalita. the handle, the accessory that completes and adds additional style and personality to the whole design vision. here is a wide selection of high quality handles, selected to be durable and ensure the best functionality. maniglie handles Fuori produzione Out -of -production le maniglie delle linea osiride e victoria si distinguono per il prezioso disegno al centro, realizzato...
Open the catalog to page 3
All EBAN catalogs and technical brochures
Compare up to 10 products