Catalogs

>

Dulux

>

VINYL SOFT SHEEN
Catalog excerpts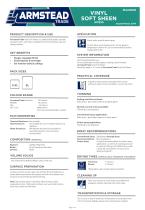 VINYL SOFT SHEEN AM225 PRODUCT DESCRIPTION & USE Armstead Trade Vinyl Soft Sheen is a professional quality, durable emulsion with a soft sheen. Suitable for all normal interior wall and ceiling surfaces. Brush, roller, spray & airless spray. WHITE WATER SPIRIT As with other water-based paints, do not apply in temperatures below 8ºC (as recommended by British Standard BS 6150) SYSTEM INFORMATION Tough, wipeable finish Good opacity & coverage For interior walls & ceilings Stir thoroughly before use. On very absorbent surfaces apply a sealing coat of thinned Armstead Trade Vinyl Soft Sheen. Finishing: Apply 1 or 2 coats of Armstead Trade Vinyl Soft Sheen. PACK SIZES PRACTICAL COVERAGE 2.5L WHITE WATER SPIRIT COLOUR RANGE Armstead Trade Exclusive: BS4800: RAL: NCS 1 & 2: Sealing new/bare surfaces: Add up to 1 part clean water to 20 parts paint. 150 colours 100 colours 45 colours 3488 colours Visit www.armsteadtrade.co.uk/pp Normal use (not to be exceeded): Thinning is not required. Conventional spray application: Add up to 1 part clean water to 4 parts paint. FILM PROPERTIES Chemical Resistance: Not suitable. Heat Resistance: Not suitable for use on heated surfaces e.g. radiators. Water Resistance: Will tolerate the levels of atmospheric humidity present in normal interior environments. Airless spray application: Thinning is not required. SPRAY RECOMMENDATIONS Conventional Spray: Satisfactory through Spray Recommendations: Most equipment. Airless Spray: A typical recommendation for airless spray application is a minimum working pressure on paint of 140 kg/cm2 (2000 Ib/sq in) with a spray tip size 0.38mm (15 thou) and a spray tip angle 65°. COMPOSITION (NOMINAL) Pigment: Binder: Solvent: A guide to the practical coverage which can be achieved under normal conditions is up to 14m2/litre. Lightfast Pigments. Acryli Copolymer Emulsion. Water. VOLUME SOLIDS DRYING TIMES (SINGLE COAT, STANDARD THICKNESS) 31% (nominal) for Brilliant White, colours will vary. SURFACE PREPARATION WHITE WATER SPIRIT Surfaces must be sound, clean, dry and free from all defective or poorly adhering material, dirt, grease and salts. New plaster and masonry must be fully dry before priming. *Dependent upon temperature & humidity Note: Special precautions should be taken during surface preparation of pre-1960s paint surfaces over wood and metal as they may contain harmful lead. After use, remove as much paint as possible from equipment before cleaning with clean water. WHITE WATER SPIRIT TRANSPORTATION & STORAGE Do not use or store in extremes of temperature and protect from frost. To prevent spillage, please store and transport upright.
Open the catalog to page 1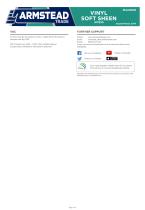 VINYL SOFT SHEEN AM225 FURTHER SUPPORT EU limit value for this product (cat A/c) : 30g/l (2010) This product contains max. 8g/l VOC Online: www.armsteadtrade.co.uk Email: armstead_advice@akzonobel.com Phone: 08444-817-818 Please visit www.armsteadtrade.co.uk to download safety sheet SDSAM302 VOC Content Low 0.30% - 7.99%. VOCs (Volatile Organic Compounds) contribute to atmospheric pollution. Follow us on Twitter Let's create together a better future for our planet. Find out how at: www.armsteadtrade.co.uk/pp AkzoNobel, the AkzoNobel logo, Armstead and Planet Possible are trademarks...
Open the catalog to page 2
All Dulux catalogs and technical brochures

Compare up to 10 products